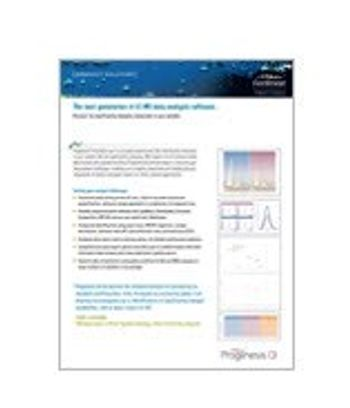 NEW Progenesis QI v2.0 is the next generation of liquid chromatography-mass spectrometry (LC-MS) software for small molecule 'omics data analysis.
It takes LC-MS data analysis to new levels of speed and sophistication, enabling users to rapidly quantify and identify the significantly changing small molecule and lipid compounds in samples.
Discovery is nothing without understanding
The expanded functionality has broad applications across a wide variety of areas including pharmaceutical, health sciences, food, environmental and chemical research.
The new features of Progenesis QI v2.0 include:
Pathway Analysis—facilitates the process of placing discoveries into a biological context, extracting maximum value from 'omics data.

Process Automation—enables the software to move through multiple processing stages without user intervention, saving valuable time and allowing for overnight and weekend processing.

Improved Access to Compound Databases with Multiple Search Methods—increases the chance of successful compound identification.

Elemental Composition—determine the elemental content of your compound; a helpful strategy when suitable databases do not exist.

Seamless Integration with EZInfo 3.0.3—extends statistics functionality with two-way dataflow to allow for flexible data mining through a single, menu-driven command.