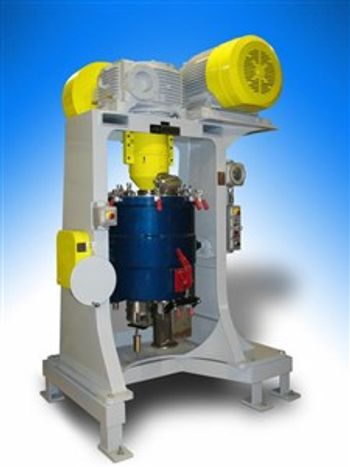 Union Process, Inc., known globally as a manufacturer of particle size reduction and dispersion equipment as well as related services for a broad range of research and industrial applications, has manufactured an SD30 dry grinding Attritor for a customer who is using the mill for reactive milling.
Reactive milling is accomplished by combining an internally agitated media bed with
media ranging in size, depending on the reaction, from 3/16" - 3/8" in a closed system. The machine is sealed with a cover and shaft seal in an inert gas atmosphere. After the reactive process occurs, the powder is discharged through a screen, but the media stays in the mill. If need be, the product can be discharged into an inert atmosphere inside a sealed vessel. The grinding chamber is water cooled for temperature control.
Depending upon the material being processed, the mill can be all explosion-proof, as is this particular mill. This mill was powered by a variable frequency drive (VFD), which was set up in a safe area, and the mill was equipped with emergency stops on each side. A potentiometer was also included to adjust the shaft at the mill, and there were readouts to give shaft RPM and HP on the mill. If required, mills can be put on frame risers to give more room under the mill for discharging.
Since 1946, Union Process has been developing and building custom Attritors for customers with a wide variety of applications all around the world.
Union Process is the inventor and developer of Attritor technology and manufactures wet and dry grinding mills as well as horizontal bead mills.
Attritor is a registered trademark of Union Process, Inc.