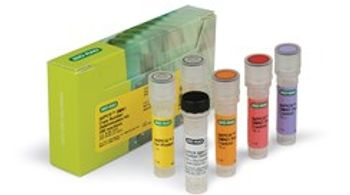 Bio-Rad Laboratories, Inc. (NYSE: BIO and BIOb) today announced the launch of two PrimePCR™ Assay Kits for Droplet Digital PCR (ddPCR™)(ddPCR™). This release expands Bio-Rad's offering of predesigned, fully wet-lab validated assays with kits for SMN1 andSMN2 copy number determination. These targets are commonly studied genes associated with Spinal Muscular Atrophy (SMA).
Bio-Rad's ddPCR technology provides an absolute measure of target DNA molecules without the need for a standard curve. Together with PrimePCR™ Copy Number Determination Kits, the technology enables the quantitative discrimination required to resolve small fold changes in gene copy numbers for copy number variation (CNV) analysis. Using current methods, CNV analysis often provides ambiguous data, making it difficult for researchers to round copy number data to the nearest integer. In combination with ddPCR technology, the new PrimePCR Assays provide scientists the ability to achieve near-integer copy number calls for SMN1 and SMN2 at high-throughput levels, thereby accelerating discovery and enabling new strategies for SMA research.
The predesigned ddPCR SMN1 and SMN2 Copy Number Determination Assays alleviate the need for assay design and optimization that multiplex ligation-dependent probe amplification (MLPA) and next-generation sequencing (NGS) assays require. The kits also include all necessary reagents and positive controls to simplify troubleshooting and improve consistency between labs.
PrimePCR ddPCR Assays are compatible with all Bio-Rad Droplet Digital PCR Systems, including the QX200™ AutoDG™ Droplet Digital™ PCR System.