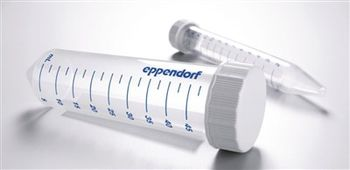 With the introduction of the two screw cap tubes 15 mL and 50 mL,
Eppendorf
Tubes® now cover the entire volume range from 0.5 mL to 50 mL.
The newly designed screw caps provide not only optimal sealing properties, but
with their grooved and multi-surface side-contour they simultaneously ensure a
secure, slip-free grip. The optimized handling features further facilitate safe opening
and closing of the tubes via convenient one-handed operation.
grade: they are not only sterile and pyrogen-free, but they are also free from
DNases and RNases as well as human and bacterial DNA. These features make
them ideally suited for cell biology applications in a sterile environment as well as
for laboratory protocols in the fields of microbiology and molecular biology, which
rely on freedom from contaminations with DNA.
The highest level of manufacturing precision and robustness ensure smooth
performance of these tubes in laboratory instruments such as centrifuges or
thermomixers.
"With all these high quality product features, the Eppendorf Conical Tubes 15 mL
and 50 mL make a significant contribution to reliable and reproducible results in a
broad variety of laboratory protocols", says Dr. Nils Gerke, Global Product Manager
for Consumables at Eppendorf.