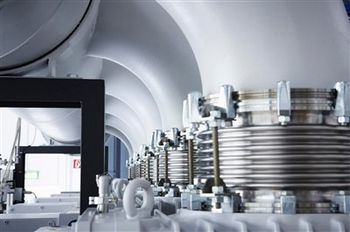 Energy efficiency and robustness for heat treatment
In the search for energy efficiency potentials manufacturer of heat treatment plants increasingly consider the value of modern vacuum systems. For a long time, the top priority was placed on trouble-free operation and reliable production of the required vacuum level. Apart from fulfilling these demands, manufacturers such as Oerlikon Leybold Vacuum have constantly and intensively worked on improving the energy efficiency of their vacuum solutions – with good results.
When developing modern screw vacuum pumps the reduction of energy consumption has been given a high focus – it is now at about the same level of established oil-sealed rotary vane pumps or rotary piston pumps.
In fore-vacuum applications, dry compressing screw pumps have proven themselves even under very rugged conditions. They offer a higher degree of robustness and insensitivity towards dust, particles, and vapors at significantly lower maintenance cost.
In addition to energy savings using modern screw vacuum pumps, similar opportunities arise when using modern Roots pumps or with an optimized operation of rotary vane pumps. In addition, Oerlikon Leybold Vacuum has improved on the established Diffusion pump technology and created a modern and retrofit able power control unit which offers a reduction of the energy demand of these pumps by up to 30%.
These developments affect the efficiency of modern industrial furnaces: With optimized vacuum systems, the efficiency will be much higher compared to older ovens. Today, a user should evaluate all of the options that arise due to modern and innovative technology. The power intake of the fore-vacuum system only represents a comparably small part of the overall power consumption of the vacuum furnace. However, over the entire service life of the vacuum furnace, the cost savings can be significant, and an investment makes sense.
Modular Vacuum Systems for secondary metallurgy
In modern steel degassing innovative mechanical pump systems are used instead of energy-intensive steam ejector systems. They enable operators to reduce operating costs and emissions.
The modular concept of Oerlikon Leybold pumps for vacuum technology in steel degassing systems has proven its merits: customers such as Siemens Metals Technologies and Inteco ordered mechanical vacuum systems for steel degassing plants, e.g. for end users in Mexico or China. In order to meet the growing requirements for explosion protection, some of these projects have been supplied with ATEX certified degassing modules.
Modern pump technology is robust, reliable, and environmentally friendly reducing operating costs. Thus, the systems fit exactly to the increasing requirements of steel manufacturers to produce high-quality steel with lower emissions and with a view at costs.