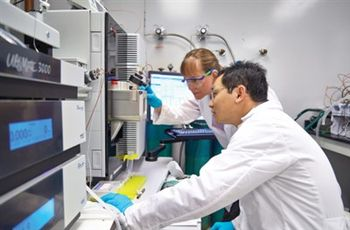 Food monitoring and testing laboratories can streamline workflows and add new analytical capabilities for pesticide analysis using liquid chromatography-mass spectrometry (LC-MS) solutions designed to optimize start-up time, reduce costs and address evolving customer and industry demands.
"Scientists may now access fully built methods on both platforms to perform quantitation as well as screening experiments with unprecedented speed, ease and confidence."
The
Thermo Scientific
Pesticide Explorer Collection is a set of LC-MS solutions specifically tailored to fit the needs of laboratories performing routine quantitation, targeted screening and non-targeted analysis of pesticide residues in food matrices. Each solution contains all of the components needed to simplify the routine monitoring of pesticides, including a pre-configured and -tested set of consumables, hardware, software and built-in instrument and data processing methods.
The Thermo Scientific Pesticide Explorer Collection will be introduced at the 63rd Annual American Society for Mass Spectrometry Conference, Booth 140, and at the Landmark Suite at the Renaissance Hotel in St. Louis.
"The Pesticide Explorer Collection is designed to improve productivity of laboratories performing pesticide analysis either by triple quadrupole technology or high-resolution accurate-mass (HRAM) analysis," said Dipankar Ghosh, director of marketing, life science mass spectrometry for Thermo Fisher Scientific. "Scientists may now access fully built methods on both platforms to perform quantitation as well as screening experiments with unprecedented speed, ease and confidence."
Four pre-configured factory-tested solutions are available in the Pesticide Explorer Collection to meet standard and high-resolution screening and quantitation needs. Each configuration includes a liquid chromatography and mass spectrometry system, the Thermo Scientific QuEChERS sample extraction kit, HPLC columns, and proven multi-class pesticide residue analysis data acquisition and processing methods using the Thermo Scientific TraceFinder software. The software also allows laboratories to generate quantitative and qualitative reports for easy review and regulatory reporting.
For routine, targeted testing of pesticides, Thermo Scientific Pesticide Explorer Collection Standard Quantitation and Premier Quantitation packages include triple quadrupole mass spectrometers and validated workflows for quick and easy set-up and execution. For basic quantitation and robust performance, the Standard Quantitation option includes the Thermo Scientific TSQ Endura triple quadrupole MS, while the Premier Quantitation package offers higher sensitivity quantitation and performance provided by the Thermo Scientific TSQ Quantiva triple quadrupole MS.
For laboratories offering specialized analytical services requiring HRAM sensitivity, the Orbitrap HRAM Quantitation and Orbitrap HRAM Screening and Quantitation packages include the Thermo Scientific Q Exactive Focus MS, which enables scientists to generate data for highly sensitive and selective quantitation as well as for in-depth screening. These packages also include a built-in HRAM Spectral Library and Compound Database designed specifically for food safety and environmental analyses using HRAM instruments.
The Orbitrap HRAM Screening and Quantitation package is a complete solution for unknown screening and identification, and also includes Thermo Scientific SIEVE software for differential analysis and Thermo Scientific Compound Discoverer software for identification of the degradents and metabolites of known target compounds.