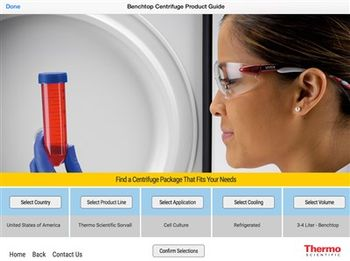 Designed to help researchers select the general purpose benchtop centrifuge package best suited to their application, the new Thermo Scientific centrifuge product selection tool combines educational information with a product selection guide. Different applications place unique demands on a centrifuge: speed, capacity, rotor and adapter requirements can vary widely. For a cell culture lab, pellet quality and reproducibility are key. A clinical lab, on the other hand, needs fast acceleration and deceleration times to facilitate quick processing, and the ability to accommodate different volumes throughout the day, whereas a molecular biology lab needs to process a wide range of tubes and plates at different speeds. There is a broad spectrum of Thermo Scientific centrifuges and associated rotors available to support these research applications.
The tool helps take the guesswork out of the decision-making process so researchers can quickly select the ideal general purpose centrifuge, rotor and accessory combination for their use.
Available as a web-based or iPad app version, the tool prompts users to choose one of four general application areas and select whether there is a need for a refrigerated or ventilated centrifuge. Next, the tool provides volume options to meet the throughput requirements of the lab, followed by a list of appropriate centrifuge packages to meet the specified needs. Packages include the centrifuge, rotor(s) and accessories in one easy-to-order bundle.
The accompanying presentation provides an interactive overview of Thermo Scientific general purpose centrifuges, and the resource library includes a host of available videos, literature and manuals.