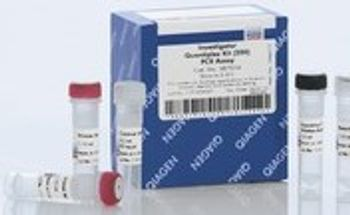 QIAGEN N.V.
today launched new
Investigator® STR assay kits
for analysis of DNA evidence in forensic laboratories in the United States. The new genetic fingerprint kits provide an integrated solution to simultaneously analyze multiple key genomic markers (short tandem repeats or STRs) for DNA matching. They incorporate the Investigator® Quality Sensor to evaluate the quality of DNA in each sample, a novel QIAGEN technology that enables labs to decide quickly which evidence may provide valuable results – solving cases while saving time and money.
The new Investigator STR kits comply with the latest U.S. requirements that labs must implement expanded marker sets by 2017 as part of an FBI upgrade of CODIS (Combined DNA Index System), as well as complying with European and Interpol standards. Following the introduction of these new standards and with the launch of the new kits, QIAGEN is the first new entrant in more than 20 years in the U.S. market for STR test kits. QIAGEN is the global leader in sample technologies in human identification and forensics and is already successfully commercializing STR kits in all other regions of the world. With around 400 accredited forensic crime laboratories analyzing more than four million casework and reference samples per year, the United States is by far the largest market for human identification and forensics.
"Closing cases in forensic investigations demands quick decisions and reliable, understandable results. Often, the quality of DNA in trace amounts of evidence is the biggest challenge. Building on QIAGEN's position as the clear market and technology leader in innovative sample technologies in forensic testing, we have integrated the Investigator® Quality Sensor into our STR kits to give labs the insights they need to make confident decisions about the quality of each sample from a crime scene or investigation. These multiplex kits streamline genetic profiling and save resources for laboratories by focusing the work on usable DNA samples and avoiding time-consuming reruns of degraded evidence," said Dr. Thomas Schnibbe, Senior Director and Head of QIAGEN's global forensics franchise.
Charles Hardy, special agent and forensic scientist supervisor with the Tennessee Bureau of Investigation, expressed the laboratory viewpoint: "The world of forensic DNA analysis has grown smaller and bigger at the same time. We can gain more information from a much smaller amount of DNA, while at the same time demanding more and more information from each examination. Working with trace amounts of DNA, every forensic analyst faces a challenge with these conflicting demands. The inclusion of internal aids such as the Quality Sensor will play a key role in allowing analysts to have confidence in their results. The Quality Sensor is a powerful troubleshooting tool to save precious time and lab resources in developing a DNA profile."
QIAGEN is now launching two STR assay kits in the United States soon to be approved for use with the National DNA Index System (NDIS).These kits are designed for forensic samples to be amplified through polymerase chain reaction (PCR) and separated and detected through capillary electrophoresis. The new kits are:
Investigator 24plex QS Kit for amplification of the new CODIS core and European Standard Set (ESS) marker sets from casework samples
Investigator 24plex GO! Kit for direct amplification of the new CODIS core and ESS marker sets from reference samples
The new STR kits complement the Investigator ESSplex SE QS Kit for amplification of the ESS marker set as well as the Investigator Argus X-12 QS Kit for amplification of 12 X-chromosomal STR markers, which also are now being launched in the United States.