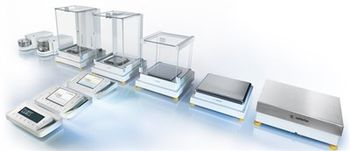 For more than 140 years
Sartorius
, now Sartorius Lab Instruments GmbH & Co. KG, has been providing high-quality laboratory and production technologies. One of its core competencies is the production of laboratory balances developed to be process-oriented.
The balances in the
Cubis®
for use in the very demanding environment governed by the rules of
"Good Manufacturing Practices" (GMP) and "Good Laboratory Practices" (GLP) and are equipped with an "Advanced Pharma Compliance" (APC) design and function package for use in the pharmaceutical industry.
The process of weighing is of key importance for the production of pharmaceutical products, During this process, the raw materials are prepared for further processing according to the specified requirements. This step is fundamental to determining quality because it is almost impossible to correct errors at a later date.
A further important aspect is the avoidance of contaminations resulting both from the experimenter and from the material that is used. The employees involved in production must not be exposed to any substances which might be hazardous to health, and the item being weighed must also not be contaminated with microorganisms or foreign particles|previously weighed substances.
This requires a device design which ensures easy and highly-efficient cleaning. The pharmaceutical industry has dedicated hygiene regulations in order to meet this requirement. These are reflected, inter alia, in the EU Machinery Directive 2006/42/EC of 2009, the guidelines of the European
Hygienic Engineering & Design Group, and the standards of the 3A Sanitary Standards Inc. Organization.
Sartorius Lab Instruments GmbH & Co. KG deals with this aspect via the APC design package which has been introduced to the Cubis®This pays the utmost attention to the requirements for the cleanability of the balances. product range have been designed specifically range.