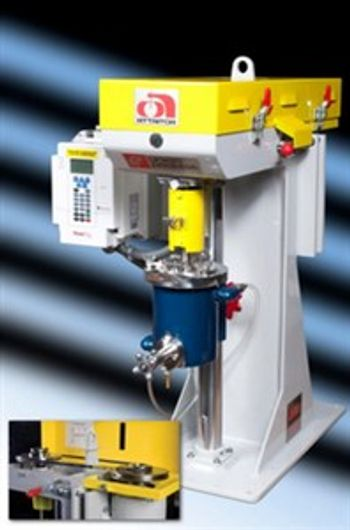 Union Process, Inc.
, known globally as a manufacturer of particle size reduction and dispersion equipment as well as related services for a broad range of research and industrial applications, has manufactured a combination laboratory mill that offers the versatility of two mills in a single footprint.
For customers who require the ability to process both fine and coarse material and/or want to perform multiple-stage grinding, the
Union Process HD-01/HDDM-01
combination lab Attritor is the solution. Using a single motor, frame and set of controls, the customer can mill coarser material using larger grinding media (3mm to 6mm) at lower agitator shaft speeds (200-650 RPM) using the HD mode. For submicron and nanometer range target particle sizes, the mill can be operated in HDDM mode which utilizes smaller grinding media (0.25mm to 2mm) and higher agitator shaft speeds (1500-3000 RPM).
Switching between HD and HDDM mode is easily accomplished by releasing the hinged belt guard (equipped with quick disconnects), moving the drive belt to the appropriate set of pulleys, and re-securing the belt guard. The coupling, agitator shaft, and cover can also be changed depending upon which mode the Attritor is being operated in.
The combination mill is available with a choice of two drive systems--the electronic variable frequency drive (explosion-proof or non-explosion-proof) or the mechanical variable speed drive (explosion-proof). The HD-01/HDDM-01 combination lab Attritor can be configured with metal-free contact parts when necessary and is compatible with the full line of HD-01 and HDDM-01 interchangeable parts and accessories to maximize versatility.
Emery Li, sales manager at Union Process, stated, "This unique design is a cost-effective solution for customers looking for the ultimate in versatility for a lab mill. The HD-01/HDDM-01 Attritor, when configured appropriately, can be used for dry milling, wet milling, milling under inert atmosphere and even cryogenic milling. It truly is one of the most versatile mills in our product offering when you consider the various milling modes, options and available accessories."
Since 1946, Union Process has been developing and building custom Attritors for customers with a wide variety of applications all around the world.
Union Process is the inventor and developer of Attritor technology and manufactures wet and dry grinding mills as well as horizontal bead mills.
Attritor is a registered trademark of Union Process, Inc.