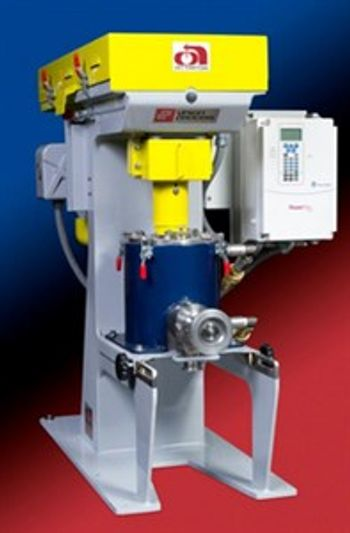 Union Process, Inc.
, known globally as a manufacturer of particle size reduction and dispersion equipment as well as related services for a broad range of research and industrial applications, has built its first combination mill comprised of an S1 batch mill combined with an
SDM-05
mill designed to operate as a bead mill.
Much like the company's HD-01/HDDM-01 combination mill, this laboratory mill is a larger version of the same principle. For customers who want the versatility of being able to process both fine and coarse material without purchasing two complete mills to accomplish this, the S1/SDM-05 combination lab mill provides the option to run at slower speeds (approximately 100 - 500 RPM) and uses media ranging from 1/8" to 3/8". The SDM option runs at higher speeds (300 - 2000 RPM) and utilizes grinding media as small as 0.25mm up to 2mm. The SDM option features a shaft with specially designed agitator disks, which are available in tool steel, stainless steel, plastic, or zirconium oxide, and a side discharge with screen.
Changing of the shaft speed requires 3 simple steps:
Releasing the belt guard and motor tension (equipped with quick disconnects)
Changing the belt
Restoring the motor tension and replacing the guard
Changing the mill configuration requires the following:
Changing the tank assembly, which is done by removing 4 bolts
Also changing the shaft
This system is built on the S1 frame, which offers many advantages, such as:
A shaft that moves up and down to adjust clearances for different media sizes
A tank that slides forward and tips for media discharge and fast cleaning
Customers may choose from two drive systems - the electronic variable frequency drive (explosion-proof or non-explosion-proof) or the mechanical variable speed drive (explosion-proof). Either system is available in a totally metal-free configuration, if required.