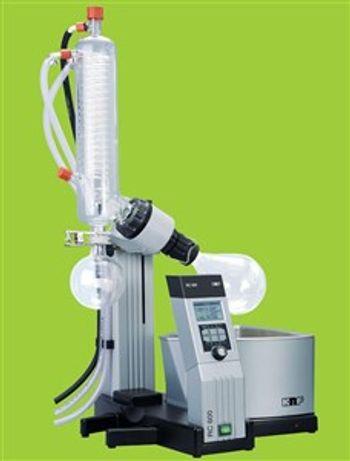 KNF Neuberger, Inc.
proudly introduces its advanced
RC 600 Rotary Evaporator
at ACS Fall 2015 in Boston, Massachusetts. The latest addition to the KNF LAB range of rotary evaporators, the RC 600 is an efficient, robust instrument designed for intensive day-to-day use in a wide range of different laboratories, from academia to industry, perfectly complementing the state-of-the-art RC 900 system launched last year. Its well thought out ergonomic design and intuitive control interface ensure ease of use, allowing rapid user familiarization and straightforward operation. For maximum operator safety, a simple flask exchange mechanism and an easy-to-pour heating bath are incorporated, and there is minimal exposed tubing.
Visitors to ACS Fall Booth 324 will also have the opportunity to discover the advantages of the new SCC 950 Vacuum Pump System, VC 900 Vacuum Control Unit, and N 920 G Vacuum Pump. The SCC 950 offers precise, cost-effective vacuum control of two separate processes concurrently, and is perfect for simultaneous operation of two RC 600 Rotary Evaporators. For laboratories with an uncontrolled vacuum source, the VC 900 is ideal. It allows existing pumps from KNF and other manufacturers—as well as central vacuum sources—to be upgraded, enabling accurate control of vacuum processes. N 920 G Vacuum Pump is the latest addition to the KNF line of oil-free, high suction speed pumps, featuring an integrated gas ballast valve for superior handling of aggressive gases and vapors.