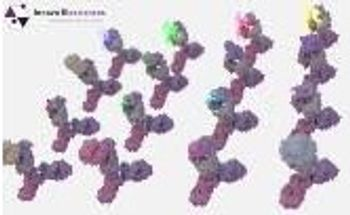 Innova Biosciences (Innova), a specialist provider of bioconjugation products and services, announced today the launch of a range of conjugated antibodies. The unique range leverages Innova's Lightning-Link® and InnovaCoat® bioconjugation technologies, to provide customers with antibodies conjugated to an extensive range of enzymes, fluorescent dyes and colloidal gold, for improved flexibility in experimental design.
The new range comprises 200 antibodies to nearly 30 different cardiac biomarkers, each available directly conjugated to 24 different enzymes, fluorescent dyes or nanoparticles. Innova intends to expand the range into other key research areas in the near future, catering to an increasingly wide scientific audience.
In conjunction with the new range, Innova has launched a new corporate website, to provide customers with easier online ordering facilities, as well as access to a range of resources and support materials. The website also features an Antibody Conjugate Generator tool, which enables customers ordering from the new conjugated antibodies range to select any desired cardiac marker, antibody clone and label.
The online Conjugate Generator provides Innova's customers with unprecedented flexibility, speed and conjugation possibilities, enabling highly tailored reagents to be created at a fraction of the cost of a custom conjugation project.
Dr Nick Gee, CEO at Innova, said: "This new range represents a progression for Innova from our range of bioconjugation kits. For the first time we are offering antibodies, capitalising on our conjugation technologies to create a powerful new tool for researchers."