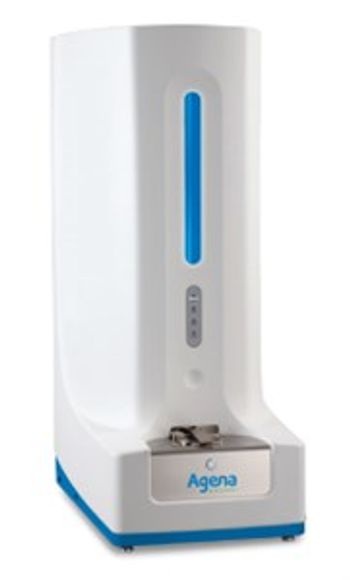 Agena Bioscience
™ today introduced the Chip prep module to automate sample handling after PCR for the MassARRAY® 96-well System. This enables laboratories to operate the
MassARRAY System
largely unattended for high-throughput, multiplex genetic analysis.
"Whether you are a lab manager, pathologist, or medical director, automation of the post-PCR workflow reduces labor and helps to improve the quality and consistency of genetic testing. Laboratories can focus resources on the most impactful work," said Peter Dansky, Agena Bioscience's CEO. "The introduction of the Chip prep module demonstrates Agena Bioscience's ongoing commitment to help laboratories quickly and reliably translate genomic discoveries into clinical practice."
The Chip prep module is designed to minimize hands-on time and reduce the risk of cross contamination associated with manual sample handling. It automates several processing steps, including dispensing and desalting samples onto the SpectroCHIP® Array, and subsequently loading these onto the MassARRAY Analyzer.
High throughput laboratories can capitalize on the quick load-and-go process of the Chip prep module.
South Bend Medical Foundation, an early access site, has realized many of the benefits of the MassARRAY System in their clinical laboratory.
"The flexibility to refine complicated testing methods quickly and easily has made the MassARRAY System an integral part of our molecular testing," said Dr. Bobbie Sutton, Pathologist and Director of Molecular Pathology.
"The addition of the Chip prep module simplifies our process and reduces the potential for contamination," added Tammy Ray, Medical Technologist for the laboratory.
The Chip prep module can process eight 96-pad SpectroCHIP Arrays in less than a day and it includes on-board cooling and storage, which allow overnight processing and storage of two additional SpectroCHIP Arrays. The module is an add-on to the MassARRAY Analyzer.