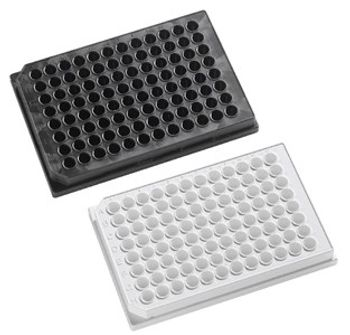 A patented manufacturing process, using a 'two-shot' mould, provides clear, individual wells in an opaque matrix. The special design of the plate totally eliminates the well-to-well optical crosstalk inherent with other clear bottomed microplate designs, giving unmatched accuracy, sensitivity and repeatability of photometric readings. Very high signal-to-noise ratio and low detection limits can be achieved with this superb plate. All tissue-culture treated plates are supplied lidded and sterile, in individual bags.
Constructed in ultra-pure grade polystyrene, the opaque white 96-well Krystal 2000 plate maximises reflectivity enabling even weakly emitting luminescence assays to be routinely undertaken. Designed for luminescence applications that require the highest levels of photometric accuracy and repeatability the Krystal 2000 white microplate (well volume - 350 microlitres) incorporates a unique clear cup design that eliminates the performance-limiting well-to-well light crosstalk inherent in most other clear bottomed microplate designs. In addition to optimised luminescence measurements the unique design of the Krystal 2000 white plate offers improved cell binding efficiency and allows the convenience of direct measurements on bottom reading spectrophotometers and inverted microscopes.
Designed for fluorescence assays the black 96-well Krystal 2000 plate contains a significant quantity of carbon black, completely eliminating well-to-well cross talk by quenching all light penetrating the plate walls. The result is unmatched sensitivity and extended dynamic range across the whole plate, essential for cherry-picking assays where unknowns may be spread randomly across the plate.
Designed to conform to the standard ANSI / SLAS format - Krystal 2000 black and white plates are fully compatible with all commercially available top reading spectrophotometers, multi-mode readers, robotic sample processors and automated liquid handling systems.
For further information please visit http://porvair-sciences.com/en/services-menu/life-sciences/clear-bottom-assay-plates/96-well-krystal-2000/ or contact Porvair Sciences