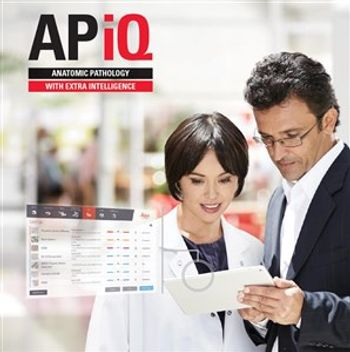 Leica Biosystems
today announced significant upgrades to the
APiQ
laboratory software solutions system extending it to Android devices and reagents from any vendor.
Leica Biosystems' APiQ – Anatomic Pathology with Extra Intelligence – is a world-first system that
enables mobile lab management using Cloud computing and smart mobile devices. Laboratories are already achieving cost savings using the existing Inventory Management solution and streamlining operations using the Instrument Dashboard.
Providing More Choice
The initial APiQ Instrument Dashboard release supported Apple iPhone devices. With this release,
laboratories and users who prefer Android devices now have that choice. According to Puneet Sarin, Leica Biosystems' VP of Pathology Imaging: "Adding Android compatibility to the Dashboard was a direct request from our customers. So in keeping with our commitment to match customer expectations, we are pleased to deliver the device flexibility they have been asking for." The Instrument Dashboard apps are available from both Google Play and the Apple App Store.
Extending the Reach
The APiQ Inventory Manager makes it easy for laboratories to maintain their reagent and consumable inventory. While the initial release served Leica Biosystems' BOND and Novocastra lines, the new updates mean reagents and consumables from any vendor can now be tracked.
Sarin further commented that: "With the original Inventory Manager, laboratories are already saving
money by reducing time spent checking inventory levels and reducing over- or under-stocking. With this new release, the benefits of sophisticated inventory management are extended to all IHC and ISH consumables ensuring laboratories get the maximum return from their entire inventory."
Only the Beginning
APiQ, the first mobile management system for anatomic pathology laboratories, continues to evolve
quickly in response to customer demands. According to Sarin "we are continuing our rapid development of APiQ so we can help laboratories meet today's challenges through improved patient safety, and cost efficiency throughout the anatomic pathology laboratory."