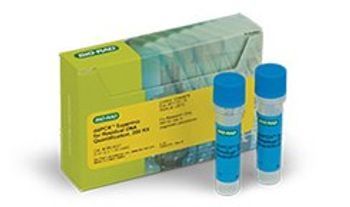 To manufacture therapeutic proteins, vaccines, and other biologics, pharmaceutical companies must purify the active molecules from the bacterial or mammalian host cells in which they were produced. However, due to inefficiencies in this process, host cell impurities — including DNA — routinely contaminate the product. Manufacturers must ensure that HCD levels in the final drug product fall within U.S. Food and Drug Administration and World Health Organization guidelines.
Quality control analysts typically measure residual HCD using quantitative real-time PCR (qPCR), a process that requires purification of HCD to remove PCR inhibitors from the sample. Not only does this step add time and cost, but DNA material is often lost, resulting in underestimation of contamination levels.
Direct Quantification Using Droplet Digital PCR Technology
Using ddPCR technology and Bio-Rad's new supermix, researchers can eliminate the DNA extraction step and directly measure residual HCD. This is possible because reaction partitioning and end-point analysis make Droplet Digital PCR less susceptible to PCR inhibition than qPCR.
ddPCR technology also simplifies HCD quantification by eliminating the need for a standard curve for determining target DNA concentration because it allows direct counting of the number of target molecules. Each lot of ddPCR Supermix for Residual DNA Quantification is produced under strict quality control to ensure low background of E. coli, mouse, human, yeast, and CHO cell DNA.