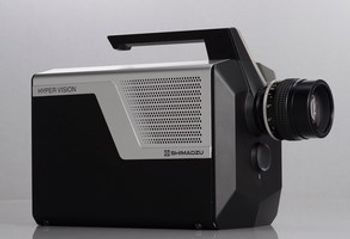 Shimadzu Scientific Instruments
(SSI) announces the release of its new
Hyper Vision HPV-X2
high-speed video camera. The new camera features Shimadzu's FTCMOS burst image sensor that increases photosensitivity by six times more than previous models. It also features ultra high-speed recording at ten million frames-per-second, the highest in its class. The camera's superior sensitivity and speed make it ideal for observing hard-to-see phenomena such as the interaction of cancer cells, the automotive fuel injection process, and the printer ink ejection process.
With higher light sensitivity and improved signal-to-noise ratio, the HPV-X2 video camera is able to produce larger, more vivid images even in poor lighting conditions. A new synchronized recording function enables users to connect two cameras together and sync the timing of their recordings. This allows labs to accurately analyze the changes in an object from multiple viewpoints.
With the included Windows-compatible software, users can control the camera operation, monitor recording conditions and compare recorded data. The HPV-X2 can also be used in combination with commercially available software for image and numerical analysis, such as obtaining strain distributions during material tests.
This new hyper-speed visualization technology will improve research for many industries that require super high-resolution imaging and observation of materials invisible to the human eye. These fields include aerospace equipment, semiconductors, automobiles, advanced medical equipment, raw materials, electronics and sports equipment.