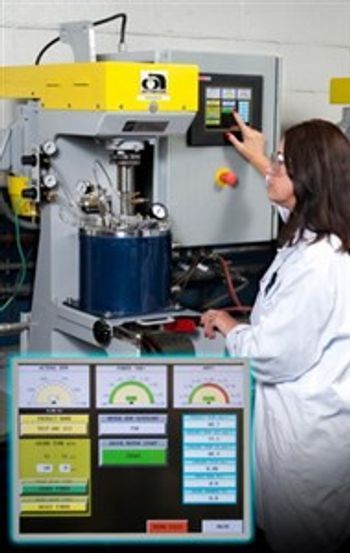 Union Process, Inc.
, known globally as a manufacturer of particle size reduction and dispersing equipment, as well as a supplier of grinding media and material characterization services for a broad range of research and industrial applications, has announced the development of a user-friendly
Touch Screen Control System for its S1
as pictured. It can be adapted to other models and sizes of Attritors or Small Media Mills.
The optional package is ideal for any application where the need to acquire and track data is essential. The Union Process Touch Screen Control System includes a data log that measures:
- Mill RPM
- Mill kW
- Mill Amps
- Grind Time
- Cooling Water Inlet Temperature (° F/C)
- Cooling Water Outlet Temperature (° F/C)
- Slurry Temperature (° F/C)
- Cooling Water Flow Rate (gpm)
Besides real-time data acquisition, this system can run the mill for set times. Data can be exported to an Excel file for further analysis and reporting.