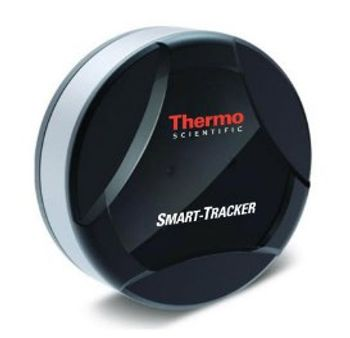 The
Thermo Scientific
Smart-Tracker
wireless temperature-tracking device is designed to monitor the temperature of life science samples and other critical material in the cold chain and share that data via the Cloud to a mobile device.
This easy-to-use, compact tracking device has been designed to solve a long-standing temperature monitoring challenge for the cold-chain industry. With temperature-sensitive samples transported by many different means, notably in trucks, airplanes and refrigerated containers of all kinds, it can become difficult to accurately track temperature conditions and access this information during transit.
By making temperature data accessible regardless of location, users can quickly and easily access information critical to the protection of samples and temperature-sensitive materials. A free mobile app accompanying the Smart-Tracker device allows users to record temperatures, set the required temperature range and view complete temperature readings and history.
The Smart-Tracker recorder stores up to 4,000 temperature readings without the need for dedicated computer equipment or complex installations. The data, complete with geographical information, can be uploaded to the Cloud and accessed from anywhere in the world.