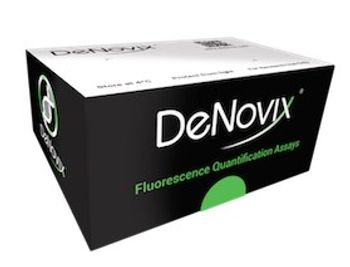 The new kits are able to accurately measure sample concentrations covering a range of 0.5 pg/µL to 4000 ng/µL, providing a 20X increase in sensitivity and greatly enhanced dynamic range over existing technology.
"Genomics is moving rapidly towards small volume and low concentration samples. At DeNovix, we recently launched a step-change in performance for fluorescence with the DS-11 FX Series instruments and it was clear to us that researchers needed the same improvement from their assays," said Fred Kielhorn, CEO of DeNovix. "Providing assays that address the needs of researchers working with single and rare cells was a key challenge for our life scientists to meet. We understand that flexibility is key in busy labs so our assays also had to cover the widest possible dynamic range."
The combination of DeNovix FX Series instruments and assay technology provides an analytical package that removes existing barriers to the limit of detection of fluorescence quantification. A robust 2-point standard curve and simple mix-and-measure assay protocol delivers rapid, error-free set up. Full integration into the DeNovix EasyApps® software, pre-installed on all DS-11 FX instruments means sample measurement, data analysis and exporting takes only seconds per sample.
DeNovix dsDNA Fluorescence Quantification kits may be purchased via web store (US) or a DeNovix global distributor. Kits are available in 1000 assay or 50 assay evaluation size and include the following products:
· DeNovix dsDNA Broad Range (0.1 to 4000 ng/µL)
· DeNovix dsDNA High Sensitivity (5 pg/µL to 250 ng/µL)
· DeNovix Ultra High Sensitivity (0.5 to 300 pg/µL)