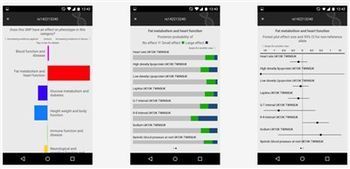 Genomics plc ("Genomics"), a leading genome analytics company, is developing algorithms, curated data resources, and software solutions to uncover the relationships between genetic variation and human traits and diseases. Genomics is allowing delegates at the American Society of Human Genetics (ASHG) 2015 conference to access part of its genetic association platform via a new mobile app weSNP (https://www.genomicsplc.com/wesnp/), for Android, iPhone and iPad devices, which is being made available for demonstration purposes at the conference.
DNA sequence variations, or single nucleotide polymorphisms (SNPs), have been associated with a wide range of human diseases and traits. Analysis of this information provides a powerful tool for improving drug development pipelines. Many studies have captured data about SNPs and their association with particular traits and diseases (phenotypes), but integrating this information across studies is challenging.
Genomics' team of bioinformaticians and statistical geneticists has developed a database including over 250 studies and 7 million SNPs gathered from various different sources, combining proprietary algorithms and software to integrate the data and to identify the relationships between genetic variations and human health outcomes. The mobile app will allow conference delegates to gain a sense of the available resources by providing a window into the company's data and analyses, to see the structure of genetic association across five phenotypic categories and over 160 individual phenotypes.
John Colenutt, CEO at Genomics plc, said: "At Genomics, we have created our integrated genetic association platform as a powerful tool to improve human health and healthcare by harnessing the insights into human biology provided by genetic data. We have developed weSNP for the ASHG meeting to demonstrate to potential customers and partners the real value of sophisticated analyses of integrated genomic databases."
Genomics has three partnerships with large pharmaceutical companies and, in the clinical genomics space, it is a Platform Provider for Genomics England, the company undertaking the 100,000 Genomes project in the UK.
weSNP will be available from 6th-10th October, 2015, from the Apple App Store and Google Play. To find out more, or to download the mobile app, please visit http://www.genomicsplc.com/wesnp/