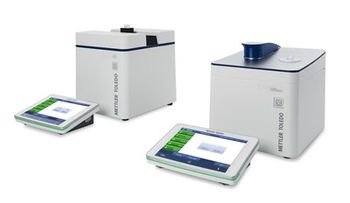 The new
UV/VIS Excellence product portfolio
includes four models that provide outstanding optical performance: UV5, UV7, UV5Bio and UV5Nano. The UV5 provides simplicity in UV/VIS spectroscopy with easy direct measurement applications. The UV7 performance complies with strict EU and US Pharmacopeia requirements and provides advanced automation possibilities. The UV5Bio is the ideal instrument for Life Science UV/VIS applications that are based on cuvette measurement. With the UV5Nano, only 1 mL of sample is needed thanks to the innovative LockPathTM technology.
FastTrackTM UV/VIS technology
The new UV/VIS Excellence instruments from
METTLER TOLEDO
integrate robust, state-of-the-art components into a unique spectroscopic system design: FastTrack UV/VIS technology, which comprises modern fiber optics in combination with array detection and a Xenon flash lamp. A full spectrum scan is performed within just one second. Instrument specifications are compliant with Pharmacopeia regulations; stray light and accuracy requirements are even exceeded. A robust design ensures measurement stability and contributes to result accuracy and repeatability. No warm up time is needed for the Xenon flash lamp to reach stability, so the instrument is always ready to use and its lifetime is greatly increased.
Optimized workflow
Spectrum scans, fixed wavelength absorption, quantification with calibration curves and kinetic analyses are ready to use as direct measurements. Simply enter parameters, define the workflow, store as a shortcut and start the measurement with One Click. Users also have the option to choose one of the predefined, industry-specific METTLER TOLEDO methods for an immediate start.
As easy as it gets
UV/VIS Excellence instruments include the One Click user interface, an easy and intuitive way to run tasks right from the terminal. A large, seven-inch high-resolution terminal provides clear color representation of spectra and results at a glance. The user is always securely guided by step-by-step instructions.
Minimize sample, maximize performance on the UV5Nano
Micro-volume UV/VIS measurement is the method of choice for small sample amounts or high absorption samples. On the UV5Nano, only 1 µL of the pure sample is pipetted onto the glass surface and LockPath™ technology makes sure that the available path lengths of 0.1 and 1 mm are accurately defined. Measurement errors are avoided and wide concentration ranges can be measured without further dilutions, saving precious time.
Streamline the UV/VIS workflow with LabX UV/VIS PC Software
LabX® UV/VIS PC software expands the UV/VIS Excellence instrument with a comprehensive graphical editor for spectra evaluation and advanced automation possibilities, as well as enhanced data analysis and management possibilities fully compliant with 21 CFR part 11/EU annex 11. Beyond this, LabX fosters seamless UV/VIS instrument integration into a METTLER TOLEDO based instrument network.