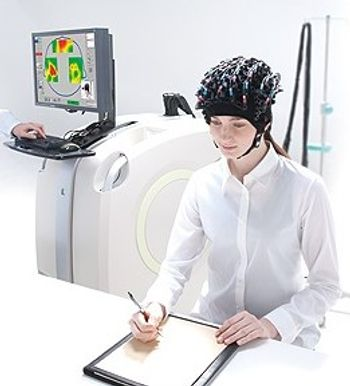 Shimadzu Scientific Instruments
(SSI) announces the U.S. release of its
LABNIRS
functional near-infrared spectroscopy (fNIRS) system. LABNIRS offers multi-channel, high-sensitivity optical measurements of blood oxygen level dependent (BOLD) signals that originate in the cerebral cortex. Shimadzu will debut the LABNIRS imaging system at booth 1854 at the annual meeting of the Society for Neuroscience, which takes place October 17-21 in Chicago.
LABNIRS offers flexibility for brain measurements through increased temporal and spatial resolution. Holders are specially designed to accept up to 40 sets of fibers, providing 142 channels, and images can be acquired at a rate of 6 ms. In addition, the LABNIRS system employs advanced semiconductor laser technology and photomultipliers to enhance signal acquisition and sensitivity.
Flexible fiber placements allow users to arrange the sensors for effective measurement of any brain region of interest. To ensure the most stable measurements, users can also select from a range of flexible adjustable surface holders (FLASH), including whole head, newborn, and high density, to provide seamless mapping of the entire brain.
The LABNIRS system is built with scalability in mind. The system offers comprehensive options to serve the ever-growing needs of brain imaging research. These options include a video recording system, simultaneous EEG measurements, a stimulus presentation system, fiber extensions, MRI fusion software, a 3D position measurement system, and a real-time data transfer system. Physiological monitoring devices such as blood pressure, heart rate, and eye tracking can be integrated into the data measurement to provide real-time comparisons to brain activity. An intuitive system interface provides easy operation in both measurement and analysis modes.
"Shimadzu Scientific Instruments takes great pride in entering into this new market by launching the most comprehensive fNIRS system available to neuroscientists today," said Mr. Katsuaki Kaito, president of Shimadzu Scientific Instruments.
A multi-subject, 112 channel, LABNIRS system designed to investigate dynamic social interactions, including integration of mutual eye gaze information, is currently installed at Yale University in the Brain Function Laboratory directed by Joy Hirsch, Professor of Psychiatry and Neurobiology. For more information, see SFN Nano Symposium: Neuroimaging of Language, "Face information is dynamically incorporated into transmission and receptive language processes during interpersonal communication" (October 19, 3:30 – 3:45 PM, N227, 376.11), and the poster, "Neural specializations for interpersonal interaction in a competitive gambling task" (October 21, 8:00 AM – 12:00 PM, Hall A, 721.10/Z23).