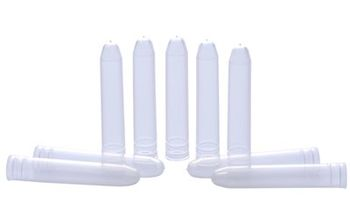 With a working volume of 1.14ml*, Micronic 1.40ml round bottom tubesare proven to be an industry standard solution for many sample storage applications.
Available in non-coded or alphanumeric coded versions,
Micronic 1.40ml round bottom tubes
provide an affordable way to improve your sample storage, handling and logistic processes. Micronic 1.40ml tubes can be purchased in bulk lots, refills or racked for 96-tube format use in the Comorack-96 or the fully automation compatible Roborack-96.
Manufactured from highest medical grade polypropylene in a fully automated class 7 cleanroom environment ensures
Micronic
1.40ml tubes exhibit absolute product consistency, no extractables and compliance with US and European Pharmacopoeia tests. Micronic 1.40ml sample storage tubes resist many organic solvents (DMSO, methanol, dichloromethane), may be autoclaved clean and can be gamma irradiated without loss of product performance. The 1.40ml tube design includes a push cap which provides secure sealing for long-term storage.
Materials used to manufacture Micronic sample storage products are FDA compliant and are selected only on quality and the highest purity levels. The 1.40ml tube range are manufactured to comply with the highest standards and are, therefore, free of any detectable RNases or DNases. By maintaining the highest possible hygiene level during its production processes, Micronic is able to limit the endotoxin level of produced and packaged sample storage tubes to a minimum (< 0.01 EU/ml). Periodically, products that Micronic manufactures are tested for detectable RNase / DNase and endotoxin contaminants by an independent organisation.
For further information please visit www.micronic.com/product/140ml-tubes or contact Micronic Europe on +31-320-277070, Micronic America on +1-484-480-3372, Micronic Asia on +31-320-277099 or email sales@micronic.com.