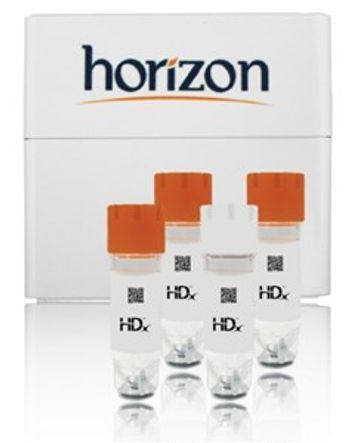 Horizon Discovery Group
plc (LSE:HZD) (Horizon), the international life science company supplying research tools and services to organizations engaged in genomics research and the development of personalized medicines, announces the introduction of its cell free
DNA (cfDNA) HDx™ Reference Standards
. The new Reference Standards support the development and optimization of cfDNA assays, which are emerging as an important tool for non-invasive liquid biopsies.
Horizon's cfDNA Reference Standards enable researchers to demonstrate the performance of their cfDNA assays by providing a reproducible, consistent and reliable source of reference material for their development and evaluation.
Created from engineered cell lines, cfDNA Reference Standards are available in both singleplex and multiplex format with cancer-relevant mutations including BRAF, EGFR, KRAS, NRAS, and PIK3CA. These Reference Standards consist of human genomic DNA fragmented to 160 bp, representative of plasma-derived cfDNA, and are provided as a set of precisely defined allelic frequencies from as low as 0.1%. A matched wild type is included. cfDNA Reference Standards with further genetic variants are currently in development.
These highly-characterized standards are able to feed directly into any cfDNA workflow from whole-genome, whole-exome, or amplicon based NGS sequencing, to qPCR and ddPCR platforms. Applications include assay validation, establishing standard curves, quantifying background noise, and defining the limit of detection of a workflow.
Horizon's cfDNA Reference Standards were recently provided under an Early Access Program. This involved working with 20 of Horizon's commercial and academic partners from around the world to demonstrate the utility of the standards across a broad range of assays and platforms. Horizon will be publishing these findings shortly.
Dr Paul Morrill, President, Products Business, Horizon Discovery Group, commented: "Horizon continues to take a leadership role in driving improvements in clinical diagnostics from the perspective of providing reference standards, enabling pathology laboratories and diagnostic developers to ensure that their assays are providing accurate results. Through Horizon, customers are able to access reference standards of the same quality for assay development as are being widely used for routine validation and quality control."
Horizon's Reference Standards are manufactured under ISO 9001, with tight quality control, and are trusted by over 500 laboratories around the world.