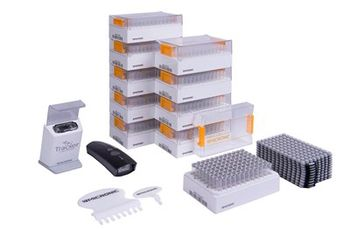 Micronic Starter Packs contain everything needed to start using 2D coded sample storage tubes, enabling laboratory workers to maintain a secure sample logistics system and eliminate the costly possibility of false sample identities.
Precisely manufactured in a certified Class 7 clean room production environment, a choice of RNase / DNase-free 0.75ml, 1.40ml, 3.00ml or 4.00ml sample storage tubes provides the versatility to suit almost any sample storage requirement.
Available with a choice of either TPE cap or Screw cap tube closure – the new Micronic Starter packs are ideal for biobanks, biorepositories or research labs that would like to start using 2D coded tubes for their sample storage. Since the amount of stored samples differs by the extent of automation and laboratory to laboratory, Micronic offers the new Starter Packs in a range of configurations and sizes: Basic, Standard, Advanced, Premium and Premium +.
Each Starter Pack offers a substantial saving over buying the products individually. Since Micronic is a world leader in traceable sample preservation and storage, the quality of supplied goods is second to none and the design of all components is optimized to provide top performance.
For further information please visit www.micronic.com/product/starter-packs-with-screw-caps-1 / or contact Micronic Europe on +31-320-277070, Micronic America on +1-484-480-3372, Micronic Asia on +31-320-277099 or email sales@micronic.com.