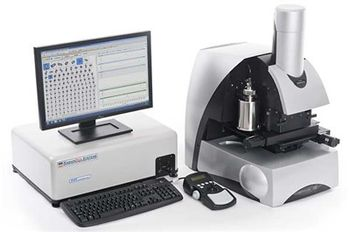 A collaboration between
Malvern Instruments
(Malvern, UK) and
Bio-Rad
(Hercules, California) has delivered new analytical tools for the rapid identification of unknown particles. New software to support
Malvern's Morphologi G3-ID
, which analyzes particle size, shape and chemical composition, enables the direct comparison of measured Raman spectra with reference spectra in the extensive database of Bio-Rad's market-leading KnowItAll® software. The result is powerful, robust particle identification capabilities for scientists working in forensic analysis and pharmaceutical/biopharmaceutical development who are trying to determine the nature and origin of unknown particles.
Gregory Banik, General Manager at Bio-Rad Laboratories, comments, "Over the last few years we've witnessed increasing levels of interest in the area of Raman spectroscopy, and we've invested heavily in our KnowItAll® Raman spectral library. We're pleased that Malvern Instruments has decided to extend access to this valuable resource via the Morphologi G3-ID, an instrument that streamlines the application of Raman within established particle characterization workflows".
The Morphologi G3-ID provides fully automated size and shape measurement, capturing images of tens of thousands of particles in just a few minutes. The Raman spectroscopy capabilities of the system can then be applied to particle populations of interest to provide reliable chemical identification where size and shape alone do not provide sufficient information.
Dr. Deborah Huck-Jones, Product Manager for Morphologi, comments, "We at Malvern are delighted that users can now enjoy seamless access to Bio-Rad's KnowItAll® ID Expert, which, alongside a comprehensive database, includes features such as optimized correction technology to enrich spectral searches and maximize use of the database through better matching. The embedded spectral intelligence within Bio-Rad's cutting edge KnowItAll® software works extremely well alongside the Morphologi G3-ID to provide a faster and more robust chemical identification."
Standing with the new software, the latest accessory package for the Morphologi G3-ID also includes the new thin-path wet cell. This enables the measurement of suspended samples in their native state, without prior filtration. This is particularly important for applications in biopharmaceutical development, and specifically in subvisible particle identification, where the Morphologi G3-ID now offers an orthogonal approach, compared with other dynamic imaging techniques.
For more information please visit: http://www.malvern.com/en/products/product-range/morphologi-range/morphologi-g3-id/