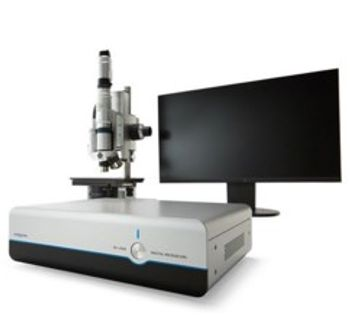 Hirox, the pioneers of 3D digital microscopy, continue to lead the field with the release of the
RH-2000
, the most advanced digital microscope on the market. This new model includes a host of new features such as a new CMOS camera, refined hardware design and modern touchscreen interface.
At the heart of the new RH-2000 is a new CMOS sensor capable of capturing images 50fps of continuous HD video at 1920x1200 pixels with high pixel density. The latter allows for highly precise measurement performance with much wider dynamic range with increased signal to noise ratios, regardless of increasing contract levels.
Redesigned hardware integrates communication connectors into optical componentry eliminating the need for cables resulting in simplified set up and lens exchange.
The microscope connects to your choice of PC via high-speed USB 3.0, ensuring the fastest possible interface with transmission rates of up to 5Gb/second. This allows the user to specify a PC to suit their requirements taking advantage of the latest technologies such as touchscreen computers.
New capabilities unique to the RH-2000 include Auto Count/Binarisation for particle size and counting extending the capabilities into new fields such as petrography. Key functional characteristics of previous Hirox models are carried forward into the RH-2000 including All-In-Focus Imaging producing focussed images regardless of height, Real Time Measurement for length, angle and surface area and Report writing that can export results to Microsoft Office applications.
Hirox digital microscopes allow the easiest generation of 3D models using image stacking. Fully integrated hardware and software enable you to generate large area 3D images using automated tiling and stacking. Detailed analyses of profiles, surface areas, volumes and even roughness are easily generated using sophisticated, yet user-friendly software tools.
As with other Hirox digital microscopes, the RH-2000 can be equipped with a vast array of lenses, stages, filters and other accessories to suit your particular application from Life Science, to Materials Science, Electronics or even Forensics.
The new Hirox RH-2000 digital microscope will be on display at ACMM (The Australian Conference on Microscopy and Microanalysis, Melbourne, January 31 to February 4). Feel free to visit the
AXT
stand for a demonstration.