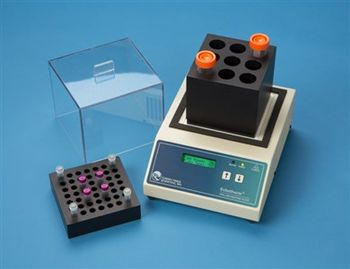 The IC30 (-10°C to 100°C) and IC30XT(-20°C to 100°C) can freeze, chill, or heat samples in a variety of sample blocks that can hold 0.2 ml to 50 ml centrifuge tubes, test tubes, vials, assay plates, and even round-bottom flasks.
The units can freeze, chill, or heat 64 - 1.5ml centrifuge tubes, 9 - 50ml centrifuge tubes, or even 4 - 250ml flasks. These are just some of the large variety of sample blocks available. The units have digital display and control to 1°C, 30-day count down timer in hours/minutes/seconds, data logger, and RS232 I/O port to collect data or to control the units by computer.
The IC30 and IC30XT measure 8.5" (216 mm) wide x 10" (245 mm) deep x 4" (102 mm) tall. They come complete with chiller/heater module, universal power supply, AC line cord for the country of use, and the instruction manual. They are UL, CSA, and CE compliant.