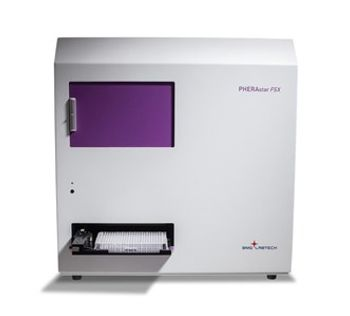 PHERAstar® FSX
is the latest evolution in microplate reader instrumentation it introduces the best sensitivity, the highest speed and unmatched flexibility in plate formats up to 3456 wells.
The ultimate microplate reader for HTS applications
Built upon the successful PHERAstar® FS platform, the PHERAstar® FSX performs all leading non-isotopic detection technologies with ease and speed. Unmatched sensitivity and speed in Fluorescence Intensity (FI) and Fluorescence Polarization (FP) and the ultra high dynamic range in Luminescence enables greater flexibility and more precise measurement results, equates to the ultimate HTS microplate reader.
Simultaneous Dual Emission detection for Alpha Technology
Screening facilities looking to increase throughput, minimize sample expenditure and control costs will benefit from Simultaneous Dual Emission detection for AlphaPlexTM with the PHERAstar® FSX increasing throughput significantly by cutting read times in a half.
Next generation TRF Laser
The PHERAstar® FSX is based on an innovative optical design including three independent light sources including the next generation laser for TRF/TR-FRET capable of 60 flashes per second increasing throughput and precision of measurement in all plate formats.
For HTS automation purposes, the PHERAstar® FSX also offers improved robotic integration capabilities, multi-user control and MARS data analysis software with digital signature and FDA 21 CFR part 11 compliance. An optional 50 plate stacker is also available.