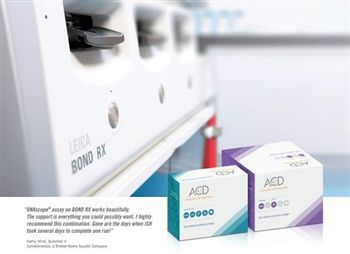 Leica Biosystems
, a global leader in anatomic pathology solutions and workflow automation, and
Advanced Cell Diagnostics, Inc.
(ACD), a world leader in RNA biomarker analysis for precision medicine, today announced a comprehensive partnership to develop and commercialize tissue-based diagnostic tests based on
ACD's RNAscope
in situ hybridization (ISH) assays on Leica Biosystems' BOND clinical advanced staining instruments. The agreement supports Leica Biosystems' development and commercialization of fully automated RNAscope-based companion diagnostic (CDx) tests in partnership with biopharmaceutical companies.
The combination of ACD's RNAscope technology with Leica Biosystems' fully automated pathology solutions allows companies and laboratories in clinical markets to integrate the power of new RNA-based biomarker tests into the existing pathology workflow. These tests will be co-branded and commercialized exclusively by Leica Biosystems for use in clinical laboratories around the world.
The market-leading RNAscope LS probes and reagents, running on the Research Use Only
BOND RX instrument
will also be upgraded to ready-to-use kits with streamlined software, to make the system more robust and easy to use. The RNAscope LS products will continue to be branded and commercialized exclusively by ACD. The availability of RNAscope technology on both research and clinical advanced staining platforms provides a seamless path for diagnostic test developers to translate their research to the clinic.
"We're very excited about the deepening partnership with Leica Biosystems. The adoption of RNAscope technology onto Leica Biosystems' clinical advanced staining instruments creates a new paradigm for tissue-based diagnostics," said Dr. Yuling Luo, President and CEO of ACD. "For the first time, diagnostic test developers in biopharmaceutical companies and pathology laboratories will be able to develop and commercialize novel tissue diagnostics with unprecedented ease, speed and performance."
Colin White, VP of Advanced Staining at Leica Biosystems added, "Leica Biosystems is excited to expand the successful partnership with ACD in order to better serve our customers, many of whom are already enthusiastic users of the RNAscope technology. This partnership will create a powerful platform for the delivery of novel cancer diagnostics in a fully automated workflow environment."
ACD's RNAscope technology enables the visualization of target RNA molecules in any cell,
transforming tissue-based biomarker analysis and providing breakthrough solutions for clinical
diagnostics and precision medicine. The RNAscope LS assays jointly launched by ACD and
Leica Biosystems in 2014 have been rapidly adopted by major biopharmaceutical companies
and leading research institutions, for use in preclinical and translational research and for patient
selection in clinical trials. Building on this success and customer demand for robust, automated
RNAscope tests for late-stage clinical trials and regulatory approval, the two companies will expand their partnership into clinical diagnostics with commercialization expected in the first half of 2016.