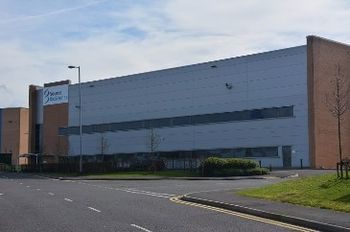 Source BioScience
, the internationallaboratory services and products business, has launched its revolutionary -70°C walk-in chamber, the
Polar 50
. The official opening featured the world-famous polar explorer, Sir Ranulph Fiennes, who spoke at the launch.
With temperatures regularly reaching -70°C, the coldest place on earth is unsurprisingly the Antarctic. Source BioScience is now able to replicate these bone-chilling temperatures in an innovative, efficient storage solution. The only one of its kind in the world, the Source BioScience -70°C walk-in chamber is the first in the new Polar Series and will be welcomed into research and industrial settings alike. Boasting a high-efficiency insulated enclosure, with an internal volume of 50m3, the chamber is supported with 100% operational redundancy on key components and has been designed for easy installation in any manufacturing or storage facility.
The latest addition to the Company's growing portfolio of products and services, the first Polar 50 has been installed at the Company's facility in Rochdale and is available for outsourced storage projects.
Guests attending the launch party enjoyed an opening speech by CEO, Dr Nick Ash, followed by a presentation by world-famous explorer, Sir Ranulph Fiennes. The Polar 50 was then officially unveiled by the Mayor and Mayoress of Rochdale, with the cutting of the ribbon.
A champagne reception gave attendees the opportunity to learn more about the Polar 50 and its benefits for clients. During this time, they were also able to observe the Company's new analytical chemistry laboratory.
Keith Parkes, Manufacturing Director at Source BioScience, said: "Engineering equipment which will operate within and maintain a large storage void at -70°C has been a challenging process, requiring close co-ordination between the groups involved in bringing this to fruition. Various operational elements have been built to maintain the low temperature conditions, interface with the key components and fit within our storage facility.
Whilst the project has been extremely challenging, as a team we have delivered a unique engineering solution which will meet the needs of our customers looking to store products at ultra-low temperatures."
Source BioScience CEO, Dr Nick Ash, said:
"We are delighted to welcome guests to celebrate the launch of this ground-breaking technology, and we are privileged to host a talk by Sir Ranulph Fiennes, the first person to visit the North and South Poles by surface means and cross Antarctica by foot. With his unparalleled experience of the coldest places on Earth, who better to appreciate the impact that our -70°C walk-in chamber could have on research groups involved with Polar studies."