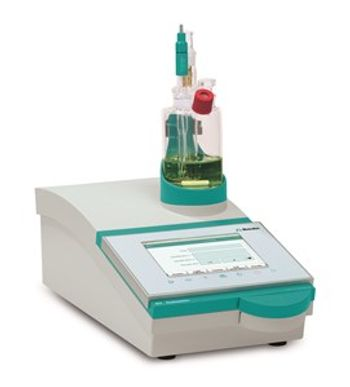 Metrohm USA is pleased to announce the release of the new Metrohm 917 Karl Fischer Coulometer. This compact, stand-alone coulometer offers several unique features that make it ideal for fast, precise determination of low-level water content. A vivid touchscreen display, simple method recall and an integrated pump combined with reagent and sample handling make the 917 compact coulometer the fastest and most convenient solution for routine moisture analysis.
The new 917 Coulometer is intelligent - automatically recognizing when a sample has been injected and starting the titration without prompt. Operation is further simplified with automatic sample weight transfer from a laboratory balance and LIMS compatibility. Quick access to frequently used methods allows titration to begin with a single touch on the high-resolution color touchscreen. Furthermore, the 917 is compact, requiring only 8 inches of linear bench space.
Karl Fischer analysis is a key parameter for evaluating product quality, stability and performance. Since samples can come in many forms, the 917 Coulometer can be connected to an oven for thermal sample preparation supporting the broadest range of sample types. "We understand the importance of precision, flexibility and speed, even on the smallest scale," said Edward Colihan, President and CEO of Metrohm USA. "The 917 represents the best mixture of size, speed and performance for water analysis measurements."
Regardless of industry, laboratory safety is always high priority. With an integrated pump, the new 917 Coulometer is designed for optimal user safety. The analyst can perform reagent exchange at the push of a button and completely avoid contact with Karl Fischer reagent. Reagents are constantly monitored to maximize reagent life, speed up the measurement process and prevent waste from discarding reagents too soon.