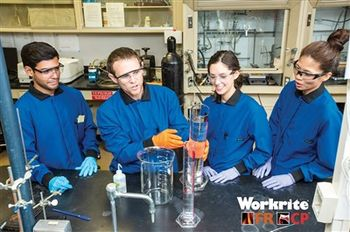 Workrite Uniform Company
announces the launch of its new
Workrite® FR/CP™ Lab Coat
, which is the first of its kind to include both flame-resistant (FR) properties and chemical-splash protection (CP). In addition to simultaneous protection against thermal and chemical-splash laboratory hazards, the Workrite FR/CP Lab Coat also provides an unprecedented level of comfort and convenience, helping to promote safety through improved wearer compliance.
The Workrite FR/CP Lab Coat combines the FR properties of Nomex® IIIA fabric with Westex® ShieldTEC™, a proprietary chemical-splash protective technology. It provides protection against short-duration thermal incidents and emergency exposure to flame while resisting the penetration and wicking of inadvertent liquid chemical splashes. Prior to this Workrite FR/CP innovation, protection against these hazards required at least two separate safety garments, often resulting in discomfort, inconvenience and potential wearer negligence.
"This new (lab) coat is the latest generation. I have seen experiments and have participated in experiments with this coat, and it is truly remarkable," said Craig Merlic, associate professor of
chemistry at UCLA and executive director at the UC Center for Laboratory Safety. "I look at this
new material as being absolutely transformative and a real game changer in terms of laboratory
safety."
In addition to providing protection against multiple hazards, the FR/CP Lab Coat is lightweight,
durable and UL certified to NFPA 2112. Available in cuts for both men and women, the lab coats other key features include: splash-resistant pass-throughs; FR knit cuts that offer improved safety over typical open-cuff designs; a concealed snap front closure; a black lay-down collar to indicate chemical-splash protection; and three pockets, including two lower pockets with snap front closures.