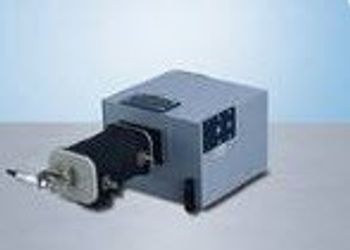 This week at Pittcon 2016, Bruker (NASDAQ: BRKR) is showcasing new products and analytical solutions for core Applied & Pharma markets, for our Nanoanalysis, Microscopy & Advanced Materials Research markets, as well as new after-market services and life-cycle support solutions for our customers.
A. Applied and Pharmaceutical Markets

The new MATRIX™-MG series of high-performance gas analyzers offer automated, high precision and real-time monitoring of gas compounds based on infrared spectroscopy. The target gases are analyzed inside a cell with different optional optical path lengths to cover a broad range of applications. The identification and quantification of compounds is performed automatically by OPUS™ GA (Gas Analysis) software with quantification of more than 400 compounds without the need for calibrations.

The new Honey Profiling module of the NMR FoodScreener™ has quickly gained acceptance by major global food analysis labs and honey-packers due to its unique capabilities to rapidly and cost-effectively detect adulteration, and mislabeling of content or origin. Eurofins Scientific Group and the Bruker-led Honey Consortium with companies QSI and ALNuMed have decided to harmonize their NMR honey profiling models and are collaborating on the release of a unified update of the Honey Profiling module. Famille Michaud Apiculteurs is the first honey-packer to adopt this novel NMR solution. With the integration of Honey Profiling in their analytical portfolio, Famille Michaud can increase the scope of analysis, while reducing the time of analysis from 2 days to just 20 minutes, in order to reduce production lead-times and total costs, and to protect their premier honey brands.

The latest update of the Wine Profiling module of the NMR FoodScreener™ provides a unique solution for the authentication, fraud detection and labeling compliance of high-value wines. The latest module upgrade features a substantial increase in the number of regions now covered, and includes areas of particular interest to consortiums, consumers and collectors. Wines from France, Italy and Spain, where a premium is paid for wines from a specific locale and labeling requirements are stringent, can now be easily and cost-efficiently authenticated and their quality ensured. As demonstrated by recent adulteration scandals identified by this method, Wine Profiling is a powerful tool for the full value chain, from producers guaranteeing the quality of their product to merchants anxious to protect their investment and reputation.

Bruker announces new sample automation with 26mm tubes to further enhance the value of its TD-NMR based minispec® Toothpaste Analyzer. The sample changer can handle 48 samples with temperature control for highest reproducibility. Further options include a barcode reader and safety housing. The minispec Toothpaste Analyzer measures the fluorine content in toothpaste several times faster and at a fraction of the total cost of ownership compared to other methods.

The new Bruker FUSION-SV 1.1 automated structure verification solution for small molecules in pharma and chemistry research integrates high-resolution, accurate mass ESI-QTOF mass spectrometry for automated chemical formula generation with NMR spectroscopy. The updated FUSION-SV 1.1 solution now includes additional 2D NMR methods for even higher confidence in rapid, automated structure verification. Designed for the workflow of medicinal and synthetic chemists in pharma, chemical industry or in academia, FUSION-SV 1.1 guides chemists to meaningful results with minimal interaction and without the need for expert knowledge. More…

Designed for the real-time analysis of chemical reactions under process conditions, the new InsightMR™ solution uses NMR flow-tube online monitoring to analyze and optimize chemical reactions. InsightMR's software features a user-friendly interface to allow both expert and non-expert users to set up, monitor and adjust key experimental parameters. The new NMR flow tube and probe, with temperature controlled transfer lines, allows fast and continuous transfer of reaction mixtures from a reaction vessel. More…
B. Nanoanalysis, Microscopy & Advanced Materials Research

The new Bruker SiBrickScan (SBS) is the first at-line FTIR instrument allowing for the quantification of interstitial Oxygen in complete Silicon bricks and ingots. The SBS system is a big step forward for Si wafer producers. In contrast to classical approaches, the SBS does not require the preparation of thin samples, but directly determines the Oxygen gradient along the ingot main axis and for fast and economic QC.

The micro-XRF spectrometer M4 TORNADO™ offers new key capabilities for the analysis of multilayer materials as well as for the quantification at uneven surfaces, e.g. in powder samples. The new XMethod software 1.3 manages calibrations and standards and enables the optimization of complex methods, such as the quantitative analysis of metallic multilayer stacks for composition and coating thickness. The M4 TORNADO's new FlexiSpot feature allows spot sizes of up to 200 µm for reproducible quantification of irregularly shaped samples, such as powders, soils or granular raw materials. With these new features, the M4 TORNADO continues to set standards in accurate, fast and non-destructive elemental analysis.

The new Vutara™ 352 Super-Resolution Fluorescence Microscope enables entirely new research functionality in super-resolution microscopy, including the ability to perform pair-correlation, co-location, cluster, and live-cell analysis with super resolution. Based on Bruker's proprietary biplane technology, it leverages high-performance data acquisition and image processing capabilities to perform the entire imaging workflow, from acquisition through localization to quantitative analysis. The Opterra™ SR high speed confocal option on the Vutara 352 system enables seamless correlative imaging for sample investigation prior to super-resolution imaging, as well as the capability to combine super-resolution images with confocal images for contextual information. More …

The new MultiMode™ 8-HR AFM (Atomic Force Microscope) brings extensive capabilities for nanomechanics and higher speed imaging to the world's highest resolution and most widely-used AFM. It enables researchers to access the broadest range of ramp frequencies for viscoelastic studies and nanomechanical assessment of a wide range of materials, from soft biological specimens to hard metallic samples. The system provides unprecedented bandwidth and extremely low-noise data acquisition to enable such proprietary technology advances as ScanAsyst, PeakForce QNM and FastForce Volume. These features reaffirm MultiMode 8-HR as the most versatile, highest performance AFM in its class.

The novel Contour™ CMM Dimensional Analysis System is the world's first non-contact metrology system to perform simultaneous nanoscale height, surface texture, waviness and form measurements, as well as 3D coordinate measurements for geometric dimensioning and tolerancing, all on one instrument. Its Vision Dimensions software offers proprietary features designed for small-part characterization, including automation for part programs, hundreds of preset analyses, and customized inspection reports. The Contour CMM system performs rapid, non-contact precision measurements for stringent metrology in R&D and manufacturing of small structures in precision-machined components across a wide range of industries, from medical and optics to automotive and aerospace.
C. After-Market Services and Life-Cycle Support

LabScape™ – Magnetic Resonance & Preclinical Imaging Service and Life Cycle Support: As laboratories continue to optimize uptime, productivity and total cost of ownership, the Bruker BioSpin Group introduces a new, flexible approach to instrument life-cycle management, maintenance and service - the new LabScape™ concept. Bruker BioSpin's LabScape suite of laboratory services includes a range of maintenance, repair and upgrade agreements for magnetic resonance and preclinical imaging product lines. Customers can choose comprehensive packages or à la carte services, as needed. LabScape can be tailored to customers' needs, whether its maximum system uptime, close cost control, or even automatic system upgrades. Customers can rely on LabScape for reliable, optimal instrument performance and ready access to up-to-date expertise and techniques from our team of trained engineers and applications scientists.