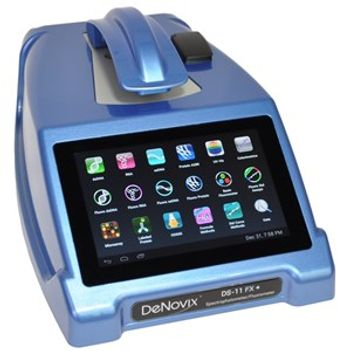 DeNovix Inc
., a developer and manufacturer of life science instrumentation and assays launches the Ultra High Sensitivity dsDNA fluorescence quantification assay.
Single cell analysis, laser capture, circulating nucleic acid and tumour heterogeneity studies are among the key life science applications that challenge the limits of detection of existing technology. With costly downstream applications and limited sample availability, quick and accurate sample quantification is essential but challenging. The launch of the
DeNovix Ultra High Sensitivity dsDNA
assay brings a 20-fold improvement in sensitivity over commonly used assays, allowing detection between 0.5 and 300 pg/µL.
"Fundamental questions in research are now being asked of single or rare cells and their role in developmental processes or disease progression." said Fred Kielhorn, CEO of DeNovix. "With the development of our Ultra High Sensitivity assay and its integration with our unique
DS-11 FX Series Spectrophotometer / Fluorometer
, researchers now have the tools available to rapidly quantify the sub-picogram sample concentrations required of these applications and improve the success of downstream applications like NGS."
The combination of DeNovix FX Series instruments and DeNovix assay technology provides an analytical package to remove existing barriers to the limit of detection of fluorescence quantification. A robust 2-point standard curve and simple mix-and-measure assay protocol delivers rapid, error-free set up. Full integration into the DeNovix EasyApps® software, pre-installed on all DS-11 FX
instruments means sample measurement, data analysis and exporting in less
-DeNovix Broad Range Fluorescence Quantification Kit (0.1 to 4000 ng/µL)
-DeNovix High Sensitivity Fluorescence Quantification Kit (5 pg/µL to 250)
For more information about the DeNovix Fluorescence quantification assays, the DS-11 FX series Spectrophotometer / Fluorometer or to locate distributors and representatives visit: http://www.denovix.com