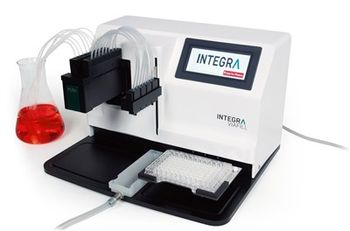 INTEGRA
announces the latest version of its
VIAFILL reagent dispenser
. The VIAFILL is ideal for applications including compound storage / addition, ELISA, genomic / proteomic studies and screening as well as cell based and kinetic assays.
Featuring an intuitive touchscreen user interface, programming of repeat dispenses, variable volume dispenses and custom programming is both fast and easy. Users can quickly alternate between 8 and 16 channel dispensing cassettes enabling rapid and accurate filling of 6 to 1536 well microplates. All dispensing cassettes are supplied pre-sterilized and can be autoclaved allowing multiple uses.
The touchscreen user interface features intuitive graphics, allowing users to quickly edit predefined programs and to create, store, name and recall up to 99 individual programs. For complete walk-away functionality, users can add the optional VIAFILL stacker that offers 25 or 50 plate chimneys for filling bulk quantities of plates. The stacker is designed for standard or deep well plates of varying height and is compatible with most brands of lidded plates.