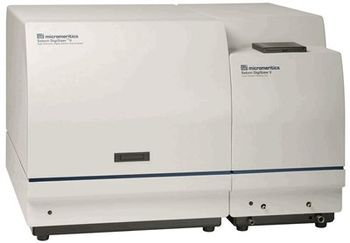 UPM Pharmaceuticals is an independent contract development and manufacturing organization (CDMO), providing numerous services from formulation development to commercialization. As a company characterized by a strict sense of quality and sound scientific fundamentals, choosing a solution provider with similar values was essential to UPM.

UPM originally contracted for sample analyses to be performed by Micromeritics Pharmaceutical Services (MPS), as a valued materials characterization outsourcing partner. In utilizing the expertise and analysis provided by MPS within the early stages of the project, the initial methodology was developed. This was a critical foundation for subsequent method improvement and implementation done at UPM.

Utilizing the Micromeritics' method and equipment in-process solution recommendations, UPM brought the process in- house to facilitate manufacturing. The method transfer and validation was seamless. UPM purchased and deployed Micromeritics' Saturn Digisizer II, a high definition particle size analyzer which employs light scattering analysis techniques. This was the same instrument that was used by Micromeritics Pharmaceutical Services in the initial development methodology.

"I saw an opportunity to use the Micromeritics instrument utilized within the MPS testing facility, for the same process and other applications, and my previous positive experience with the Micromeritics instruments factored in to the purchasing decision," said Dr Gary Hollenbeck, Chief Scientific Officer at UPM Pharmaceuticals Inc. "The in-process test is a critical quality determinant for a low dose tablet dosage form made from a blend by direct compression. When we used to outsource the testing, we had to halt production, which cost us a day or two at best. By purchasing the instrument from Micromeritics, and being able to do the in-process particle size testing in house, production has been greatly streamlined which has resulted in facilitated scheduling."

The pharmaceutical industry is highly regulated. To ensure formulation, development and manufacturing processes are conducted in an efficient, flexible and controlled way, robust and reliable instrumentation, coupled with laboratory service solutions and technical experts are a necessity. Micromeritics provided a total solution incorporating all three factors successfully, which is why UPM initially chose to work with Micromeritics and will continue to do so on future projects.