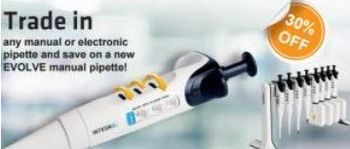 Save up to $250 by trading in an old pipette and buying a brand new EVOLVE manual pipette!
Featuring three dials for setting each individual volume digit. This approach allows users to set volumes more than ten times faster!
Two different plunger springs allow users to customize the force needed to depress the plunger to their preference. This option allows user to slow the speed of aspiration and dispense resulting in improved pipetting technique and pipetting results.
GripTips pipette tips snap into place with minimal tip loading effort, providing a secure connection. GripTips never fall off and are perfectly aligned, resulting in superior accuracy and precision.
The INTEGRA linear stand is ideal for hanging INTEGRA manual and electronic pipettes up off the lab bench. Users can add up to four charging / communication stations to convert the INTEGRA linear stand into a charging option.

To benefit from this trade in offer please contact INTEGRA Biosciences by email or phone and mention the promotion code EvolveTrade-In2016 or clearly write promotion code on all faxed purchase orders. This offer is valid until December 31, 2016.

An INTEGRA decontamination form must be included with each trade in pipette.

Offer valid in United States only.