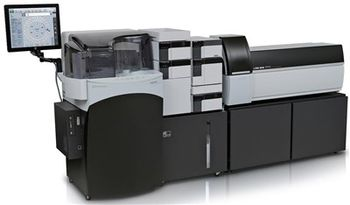 Shimadzu Scientific Instruments today announces the release of the Clinical Laboratory Automation Module (CLAM-2000), a fully integrated sample pretreatment module for LC-MS. The system automatically performs all of the processes necessary for analyzing blood and other biological samples, from scanning in information from the blood collection tubes to sample pretreatment and LCMS analysis. Automatic analysis is not only faster than manual analysis, it provides more precise results by reducing human error and improves laboratory safety and efficiency.

The CLAM-2000 is the first truly integrated sample preparation system for LCMS that allows users to process samples in an instrument that is directly attached to the LCMS system, thus enabling a very simple and safe means for lab personnel to both process and analyze samples. The user only needs to place the blood collection tube or other sample in the system, and it performs all other processes automatically, including loading the sample into the autosampler for LCMS analysis. The system offers a variety of functions that help control the precision of analytical results, including reagent management, calibration curve management, control management, and system maintenance management. All of these functions, in conjunction with a user-friendly interface, help ensure a next-generation workflow that provides reliable, rapid,

Instead of standard batch processing, the CLAM-2000 automatically processes individual samples successively in parallel. This gives researchers uniform pretreatment times and allows more efficient use of the mass spectrometer. By automating operations such as dispensing, stirring, filtering, heating, and sample transfer, the system effectively improves data accuracy, and achieves the reproducibility needed for clinical research for new drug discovery and

As safety is always a concern when laboratory personnel are required to handle biological samples, the CLAM-2000 helps to facilitate a safe working environment. The CLAM-2000 improves safety by not only removing many manual tasks requiring sample handling, but also by storing potentially infectious waste products inside the system, allowing the waste to be

"This system highlights the considerable progress made in the use of mass spectrometers for high-sensitivity detection in medical R&D," said Scott Kuzdzal, Ph.D., general manager of marketing, at Shimadzu Scientific Instruments. "It is ideal for medical research centers, university medical departments, hospital pharmaceutical departments, and contract research organizations that are dealing with issues of variability in analytical results or laboratory efficiency. It can also effectively support forensic applications conducted by universities, research institutes and testing companies."

The CLAM-2000 is research use only. Not for use in diagnostic procedures.