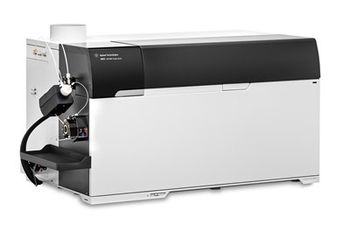 Agilent Technologies Inc. (NYSE: A) today introduced a wide range of systems, software and technologies designed to improve both the speed and accuracy of mass spectrometry.
Agilent is showcasing the new solutions at the annual meeting of the American Society for Mass Spectrometry, June 5-9, in San Antonio, Texas.

"Agilent is a leader in providing solutions for laboratories that analyze food, water, drugs, proteins, peptides, metabolites and a host of other compounds and elements of interest to scientists," said Monty Benefiel, Agilent vice president and general manager of the Mass Spectrometry Division. "The instruments and software tools we are launching at ASMS will help labs involved in developing new drugs and biotherapeutics, conducting metabolomics research, and detecting contaminants in the environment and our food make the world a safer place."

The highlight of the new releases is the Agilent 8900 Triple Quadrupole ICP-MS system. The controlled-reaction chemistry of this inductively coupled plasma/mass spectrometry system delivers the lowest detection limits for previously difficult elements, such as sulfur, silicon and phosphorus. It also includes a fast detector that sets a new benchmark for single nanoparticle applications.

One of the most innovative products Agilent introduced at the conference is the first commercially available ion source that cleans itself. The Agilent JetClean self-cleaning ion source is designed to keep Agilent quadrupole gas chromatography/mass spectrometry systems free of matrix deposits that would otherwise build up over time and degrade instrument performance. Using a carefully controlled hydrogen flow, JetClean technology greatly reduces—or even eliminates—the need for source cleaning on Agilent single and triple quadrupole GC/MS systems.

Other new instruments being showcased at ASMS include the Agilent Arsine/Phosphine GC/MS Analyzer, which enables polyethylene and polypropylene producers to reduce costs by moving impurity detection to an internal quality-control workflow, and the Agilent Water Screener GC/MS Analyzer, specifically designed to provide fast data review and reporting of regulated compounds and contaminants of emerging concern, as well as unknowns.

In addition to hardware, Agilent is introducing significant updates to several software tools. Agilent MassHunter BioConfirm Software now includes a new walkup version of the drug-to-antibody calculator, which enables characterization of antibody drug conjugates by non-expert LC/MS users. Agilent MassHunter Profinder Software speeds up recursive feature extraction and performs simultaneous analysis of multiple data files from quadrupole time-of-flight mass spectrometers used in tandem with gas or liquid chromatographs. New analytical features, such as improved reporting, are available on Agilent MassHunter Quant Software, as well as support for national pharmacopoeia system suitability testing and a new metabolomics database and method for dynamic multiple reaction monitoring. Saving researchers from tedious, time-consuming method development, it enables routine analysis of central carbon pathway metabolites, using Agilent's mid-range triple quadrupole LC/MS systems. Agilent will also showcase the recently released MassHunter VistaFlux Software, which enables cutting-edge, targeted, isotopologue data extraction and pathway visualization of metabolomic flux results for greater biological understanding.

Several personal compound databases and libraries in water purity assessment, extractables and leachables, for food and pharmaceuticals, were also announced. They will provide scientists with up-to-date references to make their research easier. Important additions were made to existing PCDLs for pesticides, veterinary drugs and forensic toxicology.