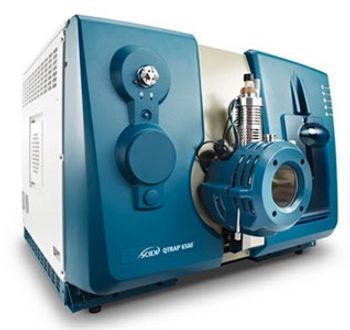 SCIEX, a global leader in life science analytical technologies, today announced the introduction of the SCIEX QTRAP® 6500+ LC-MS/MS System, which further strengthens SCIEX's high performance nominal mass spectrometry portfolio and continues the company's legacy of improving technology and performance. The new system achieves improved sensitivity and selectivity over previous generation systems for small molecule quantitation and integrates with the BioBA Solution for large molecule quantitation, creating a powerful workflow system for biologics bioanalysis.

SCIEX continues to deliver exceptionally engineered, mass spectrometry-based technologies focused on customer needs. As customers are increasingly challenged to achieve lower levels of detection, the QTRAP 6500+ system offers new features that improve quantitation. Among the new features that improve small and large molecule quant, are the multi-component IonDriveTM Technology with the new IonDrive High Energy Detector+ (HED), which pushes the boundaries of LC-MS/MS quantitation farther than ever before. The increased detection area delivers sensitivity improvements in positive mode ionization and significant sensitivity improvements in negative mode ionization in the low mass region, depending on the analyte.

Mass spec users have also asked for more selectivity, as samples have become more and more complex, creating interferences that standard triple quad techniques, like MRM, can no longer fully resolve. The QTRAP 6500+ system delivers enhanced selectivity, without compromising MRM sensitivity. The exclusive QTRAP scan function of MS3 (MS/MS/MS) adds an additional level of mass filtering, while the new SelexION®+ ion mobility technology provides an orthogonal separation prior to mass separation. The newly designed SelexION+ system has a 2x increase in ion transmission, and offers labs yet another tool for eliminating isobaric background interferences in complex assays, making quantitation in complex samples easier and less time consuming. Additionally, the unique scan functions offered by the SCIEX QTRAP system, including enhanced mass scans (EMS), enhanced resolution scans (ER), and enhanced product ion scans (EPI), deliver maximum flexibility and workflow options to enable new discoveries and more accurate identification for researchers whose work extends beyond quantitation alone.

"SCIEX is committed to delivering intelligent technological enhancements in support of our customers' quantitation needs. The QTRAP 6500+ system is ultra-competitive in the areas of sensitivity and selectivity, not to mention, dynamic range and stability," said Chris Radloff, Global Vice President & General Manager of the LC-MS Business at SCIEX. "With the introduction of the QTRAP 6500+, SCIEX uniquely enables customers to expand their capabilities, even with the most challenging applications, like small molecule and complex large molecule analysis."

The revolutionary sensitivity and selectivity delivered through these technologies are designed to see it all, from low mass to high mass compounds, in positive or negative polarity – in a single injection, with high sensitivity, reliability, and confidence, not only in small and large molecule bioanalysis, but also across applications such as comprehensive food residue monitoring, environmental analysis, lipid analysis, and forensic drug screening.