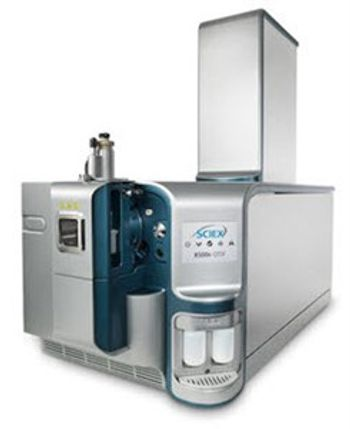 SCIEX, a global leader in life science analytical technologies, today announced it will highlight the latest additions to its growing line of mass spectrometry-based solutions at ASMS 2016. The innovative solutions, cutting edge workflows, and an array of scientific presentations and posters will be featured at the ASMS 2016 Annual Users Meeting and Breakfast Seminars, at the Marriott Rivercenter, 101 Bowie Street, San Antonio. Among the game changing solutions being featured from SCIEX's comprehensive portfolio are:

Innovations for routine workflows:
The X500R QTOF System – Launched in late 2015, the X500R QTOF System is the first model of the new X-Series mass spectrometry (MS) platform, which was designed exclusively for routine food, environmental and forensic testing labs. The X500R QTOF System was developed based on customer input and key criteria, such as performance, software ease of use, and robustness, so labs can adopt high resolution MS to collect clear, confident results without making performance trade-offs.

Sunday, June 5th at 10:40 am - X500R: The Next-Generation QTOF for Forensic Toxicology Analysis, Presented by Adrian Taylor, Ph.D., Technical Marketing Manager, Forensics, SCIEX, Salon D, 2nd Floor

Sunday, June 5th at 12:05 pm - Identification of Artificial Dyes Using the X500R LC-HR-MS/MS, Presented by Paul Winkler, Ph.D., Market Development Manager, Food & Environmental, SCIEX, Salon C, 2nd Floor

Innovations for advanced workflows:
QTRAP 6500+ LC-MS/MS System for Quant - This newly announced system achieves improved sensitivity and selectivity over previous generation systems for small molecule quantitation and is now integrated with the BioBA Solution for large molecule quantitation, putting everything in one place for biologics bioanalysis.

Sunday, June 5th at 11:05 am - Improved Selectivity Using SelexION®+ Technology for Lower Detection Limits, Presented by John "Jay" E. Jones III, Agricultural Research Chemist Sr. APD/EFR, BASF, Salon C, 2nd Floor

Sunday, June 5th at 11:55 am - QTRAP® Technology: What Are You Missing?, Presented by Adrian Taylor, Ph.D., Technical Marketing Manager, Forensics, SCIEX, Salon D, 2nd Floor

High-throughput Omics Solutions – The newest advancements in automation, reproducibility, robustness, and retrospective analysis allow high-throughput labs to scale-up their research like never before. Many new technologies and additions to SCIEX next-generation omics platforms will be discussed.

Sunday, June 5th at 9:55 am - The Lipidyzer™ Platform: A Revolutionary Tool for Understanding the Role of Lipids in Disease, Presented by Baljit Ubhi, Ph.D., Staff Scientist, Global Metabolomics & Lipidomics Applications, SCIEX, Salon E, 2d, Floor

Sunday, June 5th at 12:15 pm - Proteogenomic Profiling of Kinase Inhibitor Drug-Resistant Leukemia Cell Lines, Laurie Parker, Ph.D., Associate Prof., Dept.of Biochemistry, Molecular Biology and Biophysics, Masonic Cancer Center, University of Minnesota, Salon E, 2nd Floor
New Biopharma Innovations – The latest additions to the SCIEX line of solutions for Biologics will be featured, including BioPharmaViewTM Software 2.0 and the SCIEX "360-degree innovation approach" to characterization, a full-circle portfolio to meet the Biologics Characterization challenges of today.

Sunday, June 5th at 8:55 am - BioPharmaView™ Software 2.0: ANew Tool for Routine and Advanced Biologics Characterization Workflows, Presented by Milla Neffling, Ph.D., Advanced Workflow Specialist, Biologics, EMEA, SCIEX, Salon E, 2nd Floor

Wednesday, June 8th at 7:15 am - Strategies to Lower the Limits of Quantification in the Routine LC-MS/MS Bioanalysis of Biologic Drug Candidates, Henry B. Gonzalez Convention Center, Conv. Center Room 302A

"SCIEX sees the future of the LC-MS laboratory differently; breakthrough solutions and innovative workflows are connecting researchers to their discoveries like never before", said Jean-Paul Mangeolle, President of SCIEX. "The new solutions launching at ASMS this year, have been designed with direct feedback from our customers and will enable applied lab technicians and researchers to make more breakthroughs, around the globe, and achieve intelligent outcomes that will impact peoples' lives for a healthier future."

Throughout the ASMS conference, SCIEX will continue showcasing customer success utilizing its innovative platforms, at booth #101 and in their hospitality suite at the Grand Hyatt - Lone Star Ballroom ABC. In addition, scientists from SCIEX will be demonstrating ways to accelerate and improve workflows on a variety of instruments with oral presentations, users meetings, workshops, and posters.