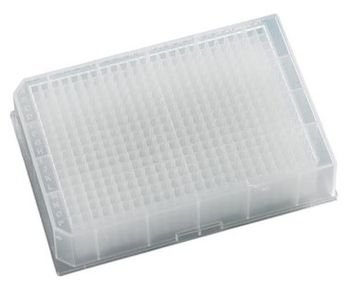 Porvair Sciences range of 384-well plates are produced in class 10,000 cleanroom conditions from superior grade, ultra-clean polypropylene to strict quality control guidelines.

Available both sterile and non-sterile, Porvair 384-well plates provide a perfect solution for sample storage and assay set-up, allowing dilutions and aliquots to be simply handled, stored, or transported. Manufactured extra flat to ensure effective sealing, Porvair 384-well plates maintain your sample integrity over extended periods down to –80ºC. Manufactured to conform to ANSI/SLAS plate dimensions all Porvair 384-well plates are fully compatible with automated liquid handling systems.

Available in two sizes (58µl and 300µl per well working volume) the pyramidal well bottom design of the 384-well plates enables easy and efficient removal of your liquid samples. Raised rims around each well minimise the risk of well-to-well cross-contamination.