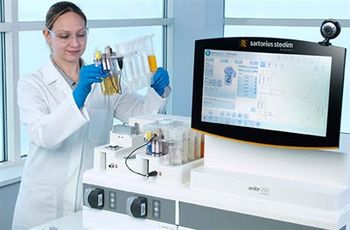 ambr® 250 modular is a new, high performance single-use benchtop bioreactor for microbial and cell culture process development applications. Based on the proven ambr 250 technology, the innovative benchtop design gives expandable capacity (2, 4, 6 or 8 bioreactors), increased productivity and excellent scalability.

Join us for this live one hour webinar to find out more about this exciting new product development, including system performance and applications.

Register for this webinar and you will also receive an on-demand link which you can watch later or share with your colleagues.
We have two live webinar sessions on Tuesday 19 July to learn more about the new ambr® 250 modular system:
Tuesday 19 July - Session 1

09.00 BST (London)
10.00 CET (Berlin)
16.00 CST (Beijing)
17.00 KST (Seoul)
Click here to register for this session
Tuesday 19 July - Session 2

08.00 PST (San Francisco)
11.00 EST (Boston)
16.00 BST (London)
17.00 CET (Berlin)