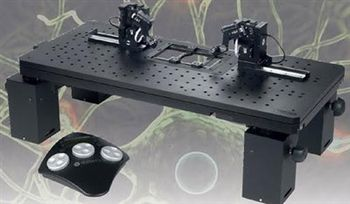 Prior Scientific, a leader in advanced high precision microscopy products, details its extensive range of automated systems, motorised stages and accessories for neuroscience and electrophysiological applications in a new brochure.

For neuroscientists and electrophysiologists that strive to achieve the best results, Prior Scientific offers a top quality range of highly accurate motorised positioning stages, height adjustable post mounts, micromanipulators, focusing and illumination devices for use with their microscope system.

Prior's range of motorised microscope stages give excellent control over XY movement. In addition to exceptionally high levels of precision, superb repeatability and excellent resolution, Prior microscope stage movement is also smooth and quiet, reducing disruption both to samples and your experimental set up.

Designed specifically for electrophysiological microscopes, the Prior Scientific Z-Deck height adjustable microscopy platform is ideal for applications requiring stability and the ability to change focus heights within seconds, with the design of the platform allowing Köhler illumination at a range of focus heights. The large surface area of the Z-Deck allows the addition of equipment such as micromanipulators and incubators.

Prior also produces a range of focusing devices to enable the fine control needed for applications such as Z-stacking or 3D reconstruction. The NanoScan-Z piezo motor system delivers up to 1 nm repeatability in the Z axis, providing you with extremely fine control combined with ultra-fast piezo movement over 100, 200 or 400 micrometres.

Obtaining excellent images requires excellent illumination, and Prior produces a range of illumination devices designed to provide the best quality light. The Sensapex range of micromanipulators is designed to provide best in class positioning stability and noise free recordings. The HZP series adjustable rigid post mounts for physiology applications provide an affordable, flexible and stable set up for electrophysiology applications.