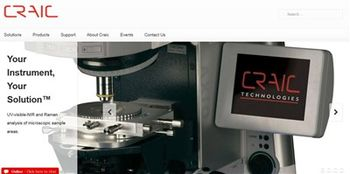 CRAIC Technologies, the world's leading innovator of UV-visible-NIR and Raman microspectroscopy solutions, is pleased to announce it's new website at www.microspectra.com. The site includes a substantial amount of detailed product information, technical information on both microscopy and microspectroscopy in the Technical Support section and much more. The new website also provides many features such as customer forums, grant assistance and enhanced search capabilities.

"CRAIC Technologies possesses many years of experience in UV-visible-NIR and Raman microscopy, spectroscopy and micro-scale analysis. We also have extensive experience in many of the fields that utilize our instruments" states Dr. Paul Martin, President of CRAIC Technologies. "As a service oriented company, we are happy to share our knowledge with others. We intend to have our website serve as a resource in the fields of both microscopy and spectroscopy."

The CRAIC Technologies website www.microspectra.com now contains extensive amounts of technical and scientific information that is available to visitors under the support section. This includes information on the science behind microscopy, spectroscopy and microspectroscopy as well as commonly used formulas. Additionally, visitors may register for access to CRAIC Technologies extensive publications archive and customer fomicromicrosrums. Detailed service and technical support information are also available to registered CRAIC Technologies customers.