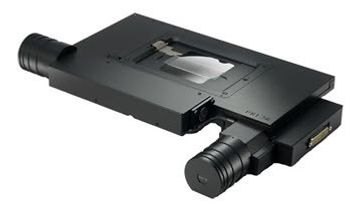 Delivering precise motorised movement with a step resolution of 0.01 microns, superb repeatability (0.7 µm) and a large travel range (114 x 75 mm) the compact Prior Scientific H101A ProScan® motorised stage is adaptable to virtually any upright / stereo microscope or optical system.

The H101A stage enables you to increase your efficiency by automatically scanning specimens and storing points for later recollection and inspection with unmatched repeatability. The H101A is ideal for scanning or inspection of slides, micro well plates, semiconductor wafers, or metallurgical specimens in any sort of pattern, including raster, snake and random patterns.

Also incorporating Prior Scientific's patented Intelligent Scanning Technology (IST) the H101A stage can be pre-programmed with a unique set of operating characteristics particular to that stage to ensure optimum performance.

Optional encoders are available to enhance the accuracy of the H101A stage still further. An expanding selection of compatible sample holders, including devices suitable for Petri dishes, standard slides and microplates, further increases the versatility of the stage, making it an ideal choice for many applications demanding precise, controlled and automated movement.

The H101A is controlled using Prior's compact and flexible ProScan III control system. In addition to the H101A stage, the ProScan III is capable of controlling a focus motor, filter wheels and shutters, as well as accessories such as cameras. The ProScan III control system is compatible with most microscopy imaging software, thereby enabling a complete imaging system to be controlled entirely from just one point.