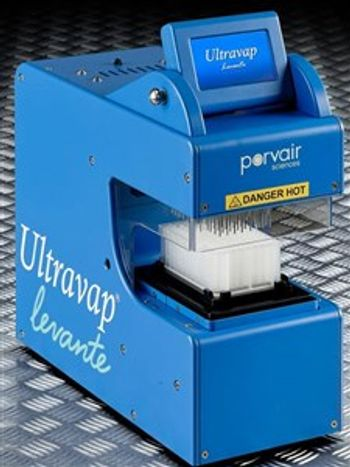 The Ultravap Levante from Porvair Sciences is a next generation nitrogen blowdown evaporator designed to meet the needs of the modern automated laboratory.

The Ultravap Levante comes with an RS232 connection and a remote command set enabling it to connect to and be operated from most commercially available robotic liquid handling systems. Porvair have positioned this automation-ready microplate evaporator to appeal to the budget-conscious laboratory who may wish to automate their sample dry-down bottleneck in the future.

With the Ultravap Levante you get full-colour touchscreen graphic displays, an integrated auto-ranging power supply and built-in solvent fume venting. Combined with real-time run displays showing actual gas temperature, gas flow rate and stage height the Ultravap Levante puts you in full control of your evaporation protocols. Offering multi-step ramped programming with full alphanumeric program naming, the Levante offers the capability to automatically handle even complex evaporation protocols effortlessly.

Designed around a standard ANSI/SLAS plate "nest" to accept most microplate formats and tube racks, the Ultravap Levante can accommodate tubes up to 80mm in height in a variety of configurations to allow the use of 2 Dram vials, 1.5ml HPLC vials, bar-coded tubes in racks and many other common formats. Evaporator heads are made to match these formats in 24-, 48-, 96- and 384-well configurations. The unique Porvair 96-well spiral needle head, which creates a vortex in certain plates to speed up evaporation, can also be used on the Ultravap Levante.

The Ultravap Levante can be operated from an in-house supply of nitrogen / clean dry air or from a gas cylinder. The blowdown technique employed by the Ultravap Levante has been widely adopted by labs worldwide for removing chromatography solvents such as dichloromethane, acetonitrile, methanol and hexane.